Although the worst of the winter is hopefully behind us, for UK cyclists, the spring can be a tricky season to deal with. April showers can easily become April blizzards and, if you haven't quite managed to keep your riding up over the winter, it can feel as though you are playing catch-up preparing for early season events. Work though our checklist to put a spring in your pedal stroke.
Assess your winter
Sit down and have an honest assessment of how your winter went. Did you manage the training you had intended? How much time did you lose to illness? Are you where you intended to be at this time of year? If your winter didn't quite go according to plan, don't just plough on regardless, maybe take a few steps back and get that work done now that you had pencilled in for the winter months. Whatever you did or didn't achieve during the winter, as you transition into spring training, events and even racing, make sure you perform a Threshold Test to ensure that your training zones are up to date and accurate.
Don't spring into spring
With the first sunny and warmer days of spring, it can be tempting to just head out and get some big rides in. This is great if you have been consistent with your riding during the winter but, if you haven't, a sudden jump in mileage could easily result in injury. Don't be too quick to pack away your winter bike or remove your mudguards either, it is not unusual to see all four seasons in one ride during the spring.
Set some goals
If you haven't already done so, take some time to plan out your cycling goals for the year. Use our Events Calendar to find events but don't forget, along with those big goals, also plan some smaller short term ones to keep you motivated. These can be weekly mileage targets, ticking off all of the sessions in your training plan or simply making sure you drink enough water each day.
Find a plan
We have training plans to suit all levels of riders. Complete novices can follow our Sofa to 50 km plan and be ready to tackle a 50 km ride in 8 weeks. If you already have some fitness or cycling experience, how about our Improver Plan that will train you up to a 100 km ride. If you are after a fitness boost, check out our 7-week Panic Plan. More experienced riders have probably followed our Foundation Plan and Intermediate/Advanced Plans through the winter and should now be looking to move onto our Discipline Specific Plans or Modular Plan.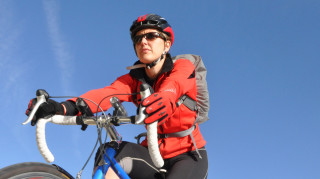 Layer up
Spring riding means mixed conditions. Wear multiple layers so you can easily adjust to changes in the weather. Follow the basics of a wicking base layer, cycling jersey mid and a removable shell jacket and you can't go far wrong. Arm warmers and knee warmers are great for chilly starts, a lightweight windproof/waterproof or gilet is handy to stash in your jersey pocket and a traditional casquette under your helmet provides some extra cover for your head.
Look after your extremities
Even on warmer days, your hands and feet can still easily get chilled. Some lightweight windproof full fingered gloves provide a good spring option when it is not quite warm enough for mitts. You can probably ditch your heavy neoprene overshoes or winter booties but some lightweight overstocks or toe covers can be good for giving your feet some protection.
Brush up your knowledge
No matter how experienced you are, if you haven't ridden a sportive or raced all winter, it never hurts to remind yourself of essential skills, techniques, preparation and etiquette. Sportive riders should look at our Ridesmart series of videos and racers should check our Racesmart.
Lose a few pounds
Most riders don't hold their "racing weight" through the winter. For some it is intentional as a few extra pounds can help you to stay warmer on the bike and make you less susceptible to getting ill. However, for most of us, it is stodgier winter food and the ravages of the festive period that have added inches to our waistlines. With better weather, more incentive to get out and ride and a greater likelihood of tucking into a salad, now can be a good time to trim some weight before the summer. Check out our weight loss guide and healthy recipes.
Sort out your bikes
As we've already said, don't be too keen to switch to your summer best, remove your mudguards or swap in your carbon wheels. When you are confident that the worst of the weather is behind us, if you are changing from a dedicated winter bike, give it a really good clean and service before you put it away. That way, it will be ready to go when you need it in the autumn. If you are sticking to the same bike that you have been riding all winter, give it a thorough check-over, service and replace any worn parts. Pay particular attention to cables, tyres, brake pads and your rims.
Join a club
There will have been a dedicated armada of club rides going out every Sunday over the winter but the spring is a great time to start riding with a club. Many of the faster and more competitive riders will be starting to focus on racing meaning that the club runs will be more relaxed. Don't worry about not being fit or fast enough as many clubs will have different paced groups and a "no-dropped riders" policy. Most will also allow you to try a few rides before committing to join. Find your local clubs using our Club Finder.