Knowledge Level: Beginner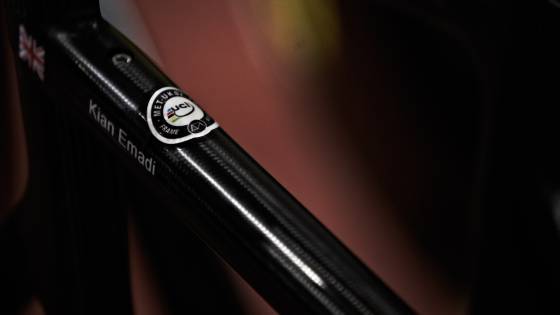 Buying a bike, whether for the road, trails or track, can be a confusing business and one of the most fundamental decisions to make is which frame material to opt for.
Quiz any three cyclists on this topic and you're likely to get three different replies and, like groupset brands and mountain bike wheel sizes, can lead to heated debate. All of the main materials currently used has their own upsides and downsides. This guide lists their characteristics but it's also essential to remember that, for every material, there can be huge variations in quality. Cheap is cheap no matter what the material and is always likely to disappoint.
History
The earliest bikes were simple wooden framed push along affairs but soon the material of choice was heavy iron, which in turn was superseded by steel. In 1897 Alfred M. Reynolds took out his patent on butted steel bicycle tubes and, for steel aficionados, a frame bearing the Reynolds stamp is a must have to the present day. As early as the 1890's innovators such as the French Company Cycles Aluminium were making forays into experimental materials but, throughout most of the 20th century, steel was king. The major advance was made in 1975 when Gary Klein displayed his welded and heat-treated aluminium frames at the International Bike show. Alan (Italy) and Vitus (France) were producing their lugged aluminium frames around the same time and, in 1983, Cannondale launched their "Aluminium for the Masses".
As early as 1974 people were tinkering with carbon-fibre but, early metal lugged designs such as the Exxon Graftek, were plagued with problems including total frame failures. Throughout this period experimentation was rife, resulting in several dead ends including plastic, glass-fibre and even magnesium but it also resulted in the perfecting of the use of both carbon-fibre and titanium. Although there are still boutique manufacturers experimenting with alternative materials, including bamboo and cardboard, the big four are steel, aluminium alloy, titanium and carbon fibre.
Steel
Pros
Cheap raw materials and manufacturing cost.
Ride quality and comfort of high quality steel is second to none.
Durable and impact resistant. Will bend rather than snapping suddenly.
Relatively easy and cheap to repair damage.
Cons
Is probably the heaviest of the four main materials.
If made too light or of disputable quality then the frame can be excessively flexible.
Steel tubing will be round so no aero profiling.
Can rust and may need occasional re-sprays.
Aluminium
Pros
Can be super light-weight.
Fairly cheap manufacturing costs and easy to mass produce.
Generally stiff offering excellent power transfer.
Pretty tough.
Modern tube shaping techniques such as hydroforming can fine-tune strength and ride feel.
Cons
The stiffness and rigidity can result in an overly harsh ride. This is why you'll often find a carbon fork and seat stays on a top end aluminium frame.
Can corrode and can react adversely with carbon fibre components.
It will weaken over time.
Hard to repair.
Titanium
Pros
Very high strength to weight ratio.
Rustproof and bombproof. Doesn't even require painting or lacquering.
Can rival steel in terms of ride quality.
High resistance to metal fatigue.
Cons
High price raw materials and extremely labour intensive and skilled frame building process makes for a hefty price tag.
Bigger or more powerful riders might find the really lightweight frames a bit too flexible. Also, some people find titanium prone to "twitchiness" and "speed wobbles" when descending.
Hard to repair.
Carbon Fibre
Pros
Very high strength to weight ratio, giving rise to the lightest bike frames available.
Excellent resistance to fatigue and totally corrosion resistant.
Strength, stiffness and ride characteristics are controllable during the manufacturing process to give exactly what is required for the requirements of the riding and rider.
Can be moulded into any shape making highly aerodynamic designs possible.
Cons
Expensive raw material.
Resistance to accidental knocks and the effect of apparently minor scratches and dings on structural integrity can be a concern.
Can break suddenly (if weakened) without warning. Particularly prone to those of us who can be over zealous with an allen key.
Hard to repair.
Quality of lay-up can vary massively.