Knowledge Level: Intermediate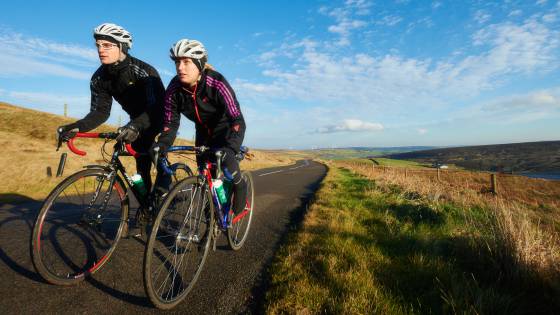 With over 30,000 miles of commuting over the past five winters under his wheels, British Cycling Manager Terry Greenwood rides to and from work every day. Terry uses his commute to fit training for racing around his work and family commitments and, having chosen to be without a car, cycling is a no-choice commitment for him, irrespective of weather.
Follow his top tips for keeping warm and dry on your commute no matter what the winter throws up.
Bike: Mudguards are a must for helping to prevent spray from the road going onto your feet and backside and chilling you. You can also make a real difference to how cold your hands get by using thicker spongy bar tape, or double wrapping to insulate you more from the cold metal bars. Pack metal tyre levers, as the plastic ones can snap if it's really cold and be careful using CO2 canisters as they can easily freeze to already-cold hands.
Feet: The key is to prevent cold air from getting in and keep warm air from getting out. The best way to do this is to wear a thin pair of ankle socks as a baselayer and a tightly textured pair of wooly socks over the top. While not likely to feature in your average kit guide, Army and Navy-issue long socks are Terry's choice. A really good trick, he says, is to get an oversize pair and run them through the tumble dryer. This shrinks them to the right size and compresses the fibres in the material to prevent warm air from escaping.
Shoes need to be big enough to accommodate whatever winter socks are being worn and not inhibit blood flow. If it's wet, overshoes are a must. These need to be totally waterproof (rubberised neoprene is a favourite) and it's important to make sure the bottom of your tights goes over the top of the overshoe, or water will just rundown your leg and into your shoe.
Legs: Make sure your socks come high up your calf in the winter and don't leave a gap at your ankles. If there's a gap, cold air will cool the blood running to your feet. Two layers on your legs is sufficient. The idea is to trap warm air in and keep cold air out. Skiing long-johns with windproof bib-tights over the top is an ideal combination. Mountain biking long tights with a bit of padding down the side can provide a bit of extra insulation too. Leg warmers are good for mixed days as you can whip them off if you get too hot.
Body: It's less likely that your torso will get as cold as your extremities, so you don't need to overdo body layers. A baselayer and a wind or waterproof outer shell is normally enough. On a particularly cold day, Terry opts for a skin-suit as a baselayer to provide full body coverage with no gaps. It is important to make sure your final shell layer is reasonably tight, so it's not flapping around and losing valuable warm air. Everything should be compressed into a compact, insulating package. If you need to wear a waterproof, make sure that it's not too thick, has elasticated cuffs and breathes well. Some jackets even fit over the top of your rucksack, keeping your lunch, laptop and cleanly laundered clothes protected from the elements.
Neck: The neck area is often ignored when it comes to wrapping up, which is a big mistake as the cold and wet can easily get in and go down onto your chest. Being able to fully zip up your outer layer right up to your chin is a big plus and also allows you to vent if you start to overheat. An elasticated tube style neck warmer is brilliant, as you can pull it right up to also cover your chin and ears.
Face: Terry opts for simple one-piece wraparound cycling glasses with un-tinted extra large lenses to divert cold air away from his eyes and prevent them streaming. The one-piece construction reduces the chances of breakage during the rough and tumble of the daily routine. Cold air can be very dry, particularly in the winter, so don't be afraid to use face cream. A smear of Vaseline around your nostrils can also prevent sensitive skin from cracking and bleeding; a must if you want to avoid walking into the office looking like a disheveled Arctic explorer.
Hands: Make sure your hands are warm before you head off by pre-heating your gloves on a radiator overnight. You can do the same with your socks and headwear too. Again, double up with thin cotton or silk under gloves and then thicker gloves on top. Don't go too thick, as this can affect your ability to control your bike. A useful option is flexible ski gloves with rubber grip pads, which are designed for holding ski poles but do a good job of keeping you warm in plummeting temperatures.
Head: Above all other body parts, the head loses the most heat. A hat that covers your ears but still allows you to hear is therefore an essential piece of Terry's kit. He opts for a thin beanie with a fleecy lining, which is ideal for trapping warm air against the skull. A good hat needs to fit low over your eyebrows and closely follow the contours of your head. It can't be too bulky, as this will affect the fit of your helmet. If it's really cold, a balaclava can keep your head and neck extra warm, but you have to be sure it doesn't obscure your field of vision.
Fueling: Whether it's a long commute or a quick few miles, try to set out with a warm, decent breakfast inside you, such as porridge. Terry opts for a large mug of hot tea to warm up both hands and body prior to leaving the house. Having been caught short with inevitable mechanicals and punctures on the roadside for periods of time, he recommends always carrying some emergency food in your bag too, such as soft sweets. On the subject of being caught short, Terry also recommends never being without the essential mobile phone and British Cycling membership card, which carries your emergency contact information.
Pacing: If you're going straight from a warm house into the cold, remember, it can be a bit of a shock to your lungs, so ease into the ride slowly and wait until you've warmed up before you start pushing the pace. Adjust your pace and clothing to the conditions and try to avoid excessive sweating, which can chill you if you have to stop or have a long descent. Remember also that commuting often happens on busy roads, so it is important to be mindful of other road users and adjust your pace and judge your actions accordingly.
Enjoy it: Adapt to the conditions and be flexible. Accept the fact that, wearing more clothing, with thicker softer tyres and in adverse conditions, you're going to ride slower. It'll be making you a stronger rider though and, come spring, you know you'll be faster. There's nothing better than getting into work on a foul day and finding that yours is the only bike in the shed, it's a great feeling!