Knowledge Level: Intermediate
Since SRM launched the first commercially available bike power meter in 1986, costing a princely $10,000, other companies have entered and exited the market and, although prices have come down, a power meter still represents a significant investment for most amateur riders.
However for quantifying training and racing performances, monitoring intensity and training load and pacing riding efforts, if used optimally, a power meter can definitely justify the expense. With a number of different systems and an array of brands on the market though, finding the right power meter for you can be confusing.
How they work
All of the reliable power meter systems utilise strain gauges. These are very simple and surprisingly cheap devices that were invented in the late 1930's. A strain gauge is composed of foil pattern mounted on an insulating backing. These are then placed in locations which are subjected to strain and an electrical charge is put through them. Flex of the part containing the gauges cause them to deform, alters their electrical resistance and this can then be measured and expressed as the rider's power output in Watts.
Although strain gauges aren't expensive, they are subject to a huge number of variables, including temperature, and getting them to produce consistent and reliable data requires major investment in research and development. This is the reason why power meters are still so expensive but, as more manufacturers enter the market, competition increases and patents expire and become commercially available, prices should continue to drop.
What to avoid
A number of cheaper systems that don't utilise strain gauges are available but these will only give a derived approximation of power. If you are unable or unwilling to invest in a reputable strain gauge based system, you are far better off sticking with heart rate to monitor riding intensity.
With many new brands appearing, be careful about jumping in at the deep end with unproven systems. Although the savings can be appealing, wait until some trusted long term reviews become available of both the units and the customer support available and whether any early teething problems get ironed out with firmware updates.
More than one bike?
If you have got more than one bike that you will want to use the power meter on, then ease of swapping it from one to the other, is an important consideration for which system you would choose. Take into consideration your mechanical ability and how often you're likely to be switching it from bike to bike.
Crank Spider
With strain gauges located in the arms of the crank spider, this is the solution to cycling power measurement that was first used by German pioneers SRM. There are now a number of other companies offering this type of product, such as Quarq, Power2Max, Rotor and Pioneer. Generally accuracy and reliability from the newer manufacturers has been impressive but choice of chain sets that you can use can sometimes be limited.
As the longest serving power solution, crank based systems are the most proven but, especially with SRM, you do pay a premium for this heritage. Other factors to consider include whether you can self-install and can you change or charge the battery yourself? If your bikes have the same bottom brackets then swapping from bike to bike can be relatively quick and easy but, if this isn't the case, you are really limited to power on one bike.
Hub
The hub based solution offered by PowerTap has been available for over 15 years and is available built into complete wheels, ranging from bombproof trainers to range topping aero racers, or as a hub alone, that you can have built into the wheel of your choice. For a long while, they offered the only cheaper but reliable alternative to SRM and, even with the new crop of competitors, are still holding their own. Along with affordability, their biggest plus is that swapping from bike to bike is as simple as changing a wheel. However the downside of this system is that you may have to train on an expensive racing wheel or race on a heavier and less highly performing training wheel.
Pedals
With strain gauges sited in the pedal spindles, Polar hit the pedal based system market first and, although the actual pedals were reasonably well received, a lack of ANT+ compatibility, a limited choice of head units, fiddly zip tie heavy installation and high price, led to limited take up. Polar are still making a pedal based system, that does now offer ANT+ and Bluetooth compatibility but availability seems limited.

Garmin took their time bringing their Vectors to market, with numerous delays and the first generation product, with fiddly installation and fragile pods, was far from perfect. However, now on the pod free third generation, installation really is as easy as swapping over a pedal and all of the kinks have been ironed out. Garmin have also released the Vector S which only measures power on one side. This significantly reduces the price but does remove the selling point of bi-lateral pedal stroke analysis and assumes that riders produce equal power in both legs. You can however upgrade to dual sensors as and when your finances allow.

Powertap have also released the sceond generation of their pedals, the P2 and, having been recently acquired by SRAM, expect further refining of an already good product. Favero, whos first generation bePRO was well received, have now released their second generation product the Assioma. Finally, power meter pioneers SRM have also released a pedal based system in colaboration with LOOK, the EXAKT.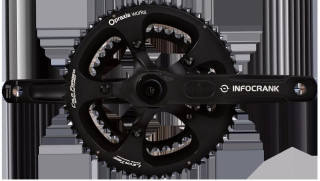 Crank arms
Launched in autumn 2012, Stages Power really shifted the market goalposts with their left side only power meters. Their single-sided success has driven their competitors to release more affordable one-legged options. With power only measured on the left, full power numbers are achieved by assuming equal output from both legs and doubling up. Obviously this does open up the possibility for error in cases of significant imbalances but this shouldn't affect the vast majority of riders and ride to ride data for the same rider should still be consistent. Having solved a few glitches in their first generation products, they now offer a reliable product range, covering all the common cranks available and including carbon. They have also released a dual sided power meter which they developed with Team Sky.

Other crank arm systems are offered by 4iiii Precision, Pioneer, Rotor, Shimano and Verve. British Cycling Members can receive 15% off the Verve InfoCrank Compact M30 package
Head unit
ANT+ and Blutetooth have become the standards across the industry and are supported by all the major power meter manufacturers. If you already own a compatible unit such as a Garmin, Wahoo or similar, you won't need to factor a new head unit into your budget.
Analysis software
Simply riding with a power meter will not miraculously improve your cycling. To make the most of one, you need to understand how to analyse, interpret and apply the vast amounts of data it'll give you. If you are unsure how to go about this, you may want to consider employing the services of a British Cycling Level 3 coach to help you out. TrainingPeaks provides comprehensive packages for training with power and, as a British Cycling partner, members receive a discount.
The future?
Increased competition should see the price of power meters continue to steadily fall and become more affordable. Stages certainly caused a shift in the market which other manufacturers were forced to respond to. There are a host of new brands developing products based around existing solutions and some new ideas, including a cleat based system. More competition will mean lower prices but do be wary of investing in unproven technology.
Should I buy one and which do I choose?
You certainly don't have to invest in a power meter to be a successful cyclist and they are definitely not performance magic bullets but, if you are willing to make both the financial investment and take the time to learn how to use it, becoming a power convert could make a real difference to your riding. Choosing the right system comes down to your personal requirements and budget. Speak to club-mates who train with power and get some real riding riding feedback on the various systems. There are also companies who will rent you power meters and this can be a good way to find out which one is best for you.
Verve Cycling designs and builds innovative bike parts for cyclists, including the InfoCrank, which are renowned for their real-world accuracy and reliability.
The Great Britain Cycling Team uses the data acquired from the InfoCrank to continue to give them the edge as they strive to remain the world's single most successful cycling team.
British Cycling members receive 15% off the InfoCrank Compact M30 package, click here to find out more: Infocrank discount