Knowledge level:
Article posted: 18/12/2013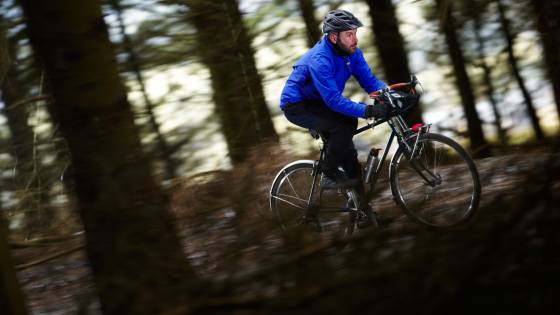 Paul has e-mailed in with a question concerning intensity during the winter.
Q: Advice for winter training often seems to present apparently conflicting ideas. That is, usually low HR zone, high volume, base miles are advised as the ideal, but then often in the same book, article, feature etc. it will be mentioned that cyclocross races or riding a fixed wheel bike are also great for winter training. These would seem to offer the opposite of steady base miles. I realise that with plenty of time available these could all be combined, but for many of us balancing training, work and family commitments, somewhat unrealistic.
I will usually try to fit in one 2 - 4 hour ride most weekends, but do struggle to find the time to fit in hours of base mile training during the winter. However, I am lucky enough to live around the corner from an outdoor velodrome that offers open training sessions of 1.5 hours, two evenings a week during winter. This usually consists of chain gang style riding around the track at HR zone 3 with some threshold level efforts.
Should I really be trying to find more time to do steady base miles or would I be better off focusing on 'sweet spot' style training at the track?
A: As you correctly point out, the winter has traditionally been the time for long and steady base miles. This, to a certain extent, still holds true and there's no doubt that a solid endurance base is an essential foundation for success in almost all cycling disciplines. The mindset of long and steady only though has largely come from professional cycling where, with thirty hours plus to devote to their training, pros are able to devote the time to building this base. With this sort of volume, their intensity has to be fairly low or the riders would be risking illness or injury through overtraining.
With work, family and other commitments to juggle your cycling around, logging huge volume training weeks simply isn't attainable. This fact is recognised by both the British Cycling Sportive Training Plan and the Intermediate/Advanced Foundation Plan. Longer weekend rides, to build that endurance base, are combined with shorter mid-week workouts, where the intensity is higher and often focusing on Zone 3 (Tempo), Zone 4 (Threshold) and the "Sweet-Spot" that straddles both of these zones. This is very similar to the sort of training you're currently doing and is a very effective way to train if you're time constrained.
All training is a balancing act between the benefits you'll gain from the session and the amount of time you'll take to recover from it. Quantifying how demanding a session is on your body is a combination of volume and intensity and can be expressed as a figure known as Training Stress Score (TSS) . Riding as hard as you can for an hour, which translates to your Functional Training Threshold (FTP), gives a TSS of 100. listen to this podcast on TSS by Insight Zone Expert Dirk Friel, co-founder of TrainingPeaks. TrainingPeaks is the perfect way to monitor your training and observe TSS. As a British Cycling Member, you can receive up to a 40% discount on TrainingPeaks packages. The important point is that the beauty of training in Zones 3/4 is, although giving the body a stimulus higher than steady state work, recovery from these sessions is only typically 24-36 hours. This means you can do sessions of this intensity during the week, recover from them and still be able to ride long at the weekend without risking overtraining. It's the ideal training zone if you're squeezed for time and that's why it's called Sweet-Spot.
Racing cyclocross is a slightly trickier proposition as, although the races are only typically 45-60 minutes long, the intensity and the terrain mean that, if you're racing seriously, the TSS will be high. A cyclocross race on a Sunday will demand rest or easy recovery sessions on the Monday and more than likely Tuesday. The accumulative fatigue of a full cross season racing every weekend, will require a significant break from hard riding in January or February. If you carry on straight through into the road season without backing off, you risk burning out in June or July. Cyclocross is a great way to get a competitive fix during the winter though, work on bike handling skills and have a lot of fun, so we'd definitely encourage giving it a try. However, if it's not your main focus and you're using it for training, only race every few weeks, try to schedule it before a recovery week and focus on the skills and fun aspect rather than hammering yourself. If you get truly bitten by the cyclocross bug you may have to reassess your goals and training for the winter and spring to accommodate it.
In summary, you can't go hard and long without risking overtraining but if you're not logging professional level miles, including some moderate level intensity is the most time efficient way to train.
features

latest content

Tackling long climbs

Posted: 13/05/2015
Top tips for tackling long...
Knowledge level: Intermediate

most popular

How to lube your chain

Posted: 17/05/2013
How to lube your chain and keep you bike running...
Knowledge level: Beginner

meet the experts