Knowledge level:
Article posted: 30/07/2013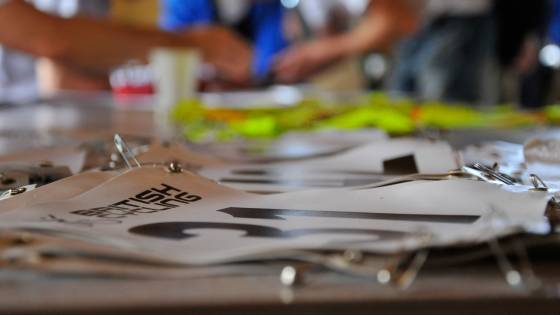 My heart rate jumped alarmingly. I was out of breath and sweaty and I hadn't even begun cycling. Clipped in and being held upright on the start line, I was terrified of doing a static SPD tumble in front of the whole club and totally embarrassing myself.
In this blog piece, Lissa Cook gets her first experience of competitive cycle sport when she takes part in some local club time trials.
My other half had stripped off my mudguards, raised my saddle and fiddled with my handle bars. That and a nice calm evening saw me shave more than three minutes off my previous time.
I turned up to Buxton Cycling Club's weekly 9 mile TT with my mountain bike shoes on my feet and my mudguards still fitted from the winter. I'm sure the skin-suited racers with their TT-bikes and disc wheels weren't too worried about the new girl on the block.
I used to commute 15 miles a day in London in the pre-Congestion Zone/Boris Bike days when my colleagues thought I was nuts. I've ridden Lands End to John O'Groats but the fast traffic and the Peak District hills have always put me off getting on my shiny red road bike and riding more. When a friend announced a new sportive to raise money for their village shop, I rashly signed up and then thought I ought to get the bike out of the shed and do some training. My husband suggested trying a local time trial and somehow convinced me to give one a go.
After a wobbly start and nerve-wracked first lap, I settled down into a pace that was dictated by how much air I could gasp into my lungs. I'd gone off way too hard, which explains why my second lap was 12 seconds slower than my first but I eventually found my rhythm (slow and painful) and was chuffed to ride a faster third lap and finish in just under 31.30.
Despite their exceedingly tight-fitting gear and aero smurf hats the Buxton club were incredibly friendly and welcoming. The other great thing about this time-trial is that as long as you start in the first few places, the chances of you getting lapped by the entire field are slim, so you really feel part of the whole event. The advantage of getting lapped repeatedly though is that everyone shouts encouragement as they go past.
I've since done another couple of time trials including the picturesque 9 mile out and back organised by Glossop Kinder Velo. It was much hillier than Buxton with 841ft of gain and a wicked uphill start but again the club members were warm and encouraging. One of the younger riders helpfully shouted advice to drop my gears and up my cadence as he sped past which really helped.
I'm a very nervous descender and go through brake-blocks like sandpaper on limestone. I was over cautious on the downhill out and then didn't push hard enough on the uphill return leg so my finish was a slow 37 minutes. Looking on the bright side, it'll make getting a PB next time much easier.
So it proved at my second attempt at Buxton. My other half had stripped off my mudguards, raised my saddle and fiddled with my handle bars. That and a nice calm evening saw me shave more than three minutes off my previous time. I felt much more in control and knowing the course paid off. My splits were an almost clockwork precise 9.26, 9.24, 9.25.
I'm a definite convert. A couple of other ladies from our village have had a go too and loved it. It's a great way to do some high end training. The fact that the courses are marshalled and there are lots of other people out on the meant I felt a lot safer than being out on my own. Plus, you don't need to worry about having a mechanical as you're always within walking distance of support or the finish.
Most clubs run evening time trials throughout the summer which are open to non-club members to enter, suitable for all abilities and welcoming to novices. Find your nearest club with the British Cycling Club Finder.
features

latest content

Tackling long climbs

Posted: 13/05/2015
Top tips for tackling long...
Knowledge level: Intermediate

most popular

How to lube your chain

Posted: 17/05/2013
How to lube your chain and keep you bike running...
Knowledge level: Beginner

meet the experts