Road
Article posted: 18/12/2012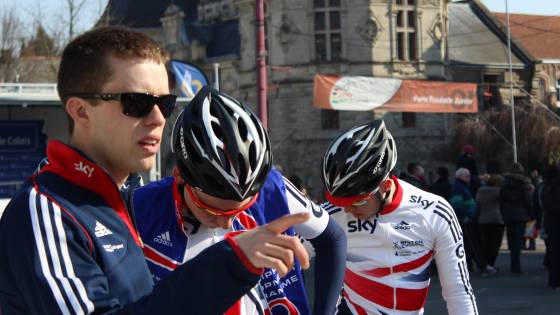 As a British Cycling coach Matt has been responsible for guiding the early development of future stars. In the last two years he has presided over three British World Junior Championship wins. Twice in the road race with Lucy Garner (2011, 2012) and Elinor Barker in the Time Trial (2012).
Developing youth and junior riders has been Matt's job with British Cycling since the age of 19, working with riders in Manchester in the Go-Ride Programme, taking roles in the Northwest and Nationally with the Talent Programme, before moving into the role of Olympic Development Endurance Coach in 2011. Matt understands what it takes to take the next steps in your cycling development, making him a perfect expert contributing to the site to help unlock your cycling potential.
Five Quick Questions with Matt Winston
When did you start riding?
Matt - I started riding when I was 13 years old, straight after watching Jason Queally win Gold in the Kilo [Kilometre Time Trial] at Sydney 2000. I began coaching when I was 19 working in the Go-Ride department before moving over to World Class as a talent team coach and then into the ODP coach role in June 2011.
What motivates you?
Matt - Making the riders be the best they can be, having the skills and knowledge to move forward and to get as far in their cycling careers as possible.
What in your opinion was the best race you have been involved in?
Matt - The best race I have worked at was the World Championships in Apeldoorn in 2012, where the Juniors all performed really well. Following Elinor Barker in the team car on her way to win the Gold medal [In the Individual Time Trial] was a fantastic experience, she was flying throughout and finished off with an incredible performance to win by over 30 seconds. This was followed up a few days later when Lucy Garner went on to win back to back world titles [Road Race].
The team of 5 girls worked incredibly hard throughout the race to make sure that the race panned out the way we wanted which was to finish up in a bunch sprint, every athlete in the team played their part. The lead out by the new junior world TT champion Elinor, delivered Lucy to the line perfectly, with Lucy finishing the job off in fine style. Both the riders and staff were celebrating as she crossed the line with both hands in the air. The lads also rode a fine race on the Sunday working hard as a team with Jon Dibben finishing the race in a very creditable 5th place.
Who is your hero?
Matt - Chris Boardman has done wonders for the sport of cycling in the role as a rider, coach and in developing new technologies.
What advice would you give to a young rider?
Matt - Always give 100%, keep your chin up, learn from your experiences and develop what you have learnt to keep you moving forward. Don't always worry about the results, think about the process and keep working hard, aim to be the best that you can be
features

latest content

Tackling long climbs

Posted: 13/05/2015
Top tips for tackling long...
Knowledge level: Intermediate

most popular

How to lube your chain

Posted: 17/05/2013
How to lube your chain and keep you bike running...
Knowledge level: Beginner

meet the experts