Knowledge level:
Article posted: 14/05/2014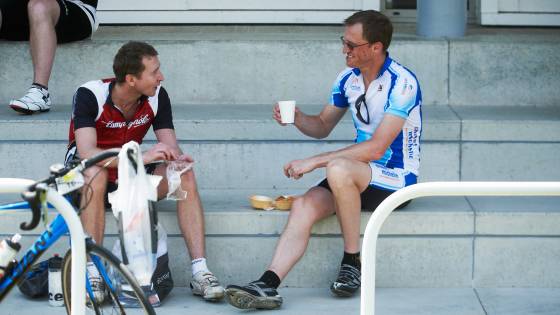 This week, Roger tells you what he always makes sure he packs in his post-event kitbag.
Week 6
Most importantly, I will have my recovery drink because that's the first I want as soon as I've finished the ride. A complete change of clothes because, even if it is a lovely warm day when you start, you never know how it's going to end up four or five hours later. Plus, you're going to sweat on a hot day, so a complete change of clothing is essential. If it's been cold or wet, you want to get warm and dry kit on as soon as possible.
I also like to have some sort of eau de cologne and a hand flannel or wet wipes, just to wipe off with. It's amazing how much fresher you feel if you can just wipe your body off before you change into your new clothes. Have a telephone and some money just in case there are any problems. When you get to the end of the ride, you never know exactly where you'll be, what facilities there are or what is going to happen, so you might need to get in contact with somebody.
If you missed Roger's Sportive tips around group riding last week, find it here Week 5
features

latest content

Tackling long climbs

Posted: 13/05/2015
Top tips for tackling long...
Knowledge level: Intermediate

most popular

How to lube your chain

Posted: 17/05/2013
How to lube your chain and keep you bike running...
Knowledge level: Beginner

meet the experts