Knowledge level:
Article posted: 11/12/2013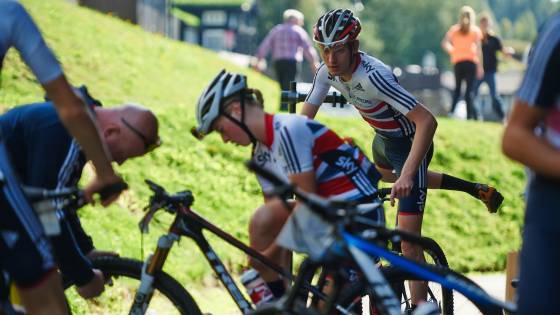 With hundreds of bikes passing through his workshop every year, Great Britain Cycling Team mechanic Mark Ingham knows everything there is to know about keeping your bike running smoothly and avoiding costly repair bills. In this article he answers the second batch of your mechanical and maintenance questions. Here are your first series of mechanical questions answered.
Q: I have a 5 year old Orbea Onix with about 6,000 on it. I have just replaced the cassette, chain, cranks, bracket and front rings. I am concerned that the wheel bearing have done too many miles and effecting the steering feeling. Do you recommend replacing them or replacing the wheels, they are standard Orbea wheels.
A: To be honest, the stock Orbea wheels your bike came with won't be of the highest quality and you're probably better off replacing them. With 6000 miles on the clock the rims are likely to be fairly worn too so treating yourself to an upgrade is definitely the way to go. Check out this article on upgrading your wheels.
You don't need to spend a fortune but for £300-£500 you'll be able to get a set of alloy wheels that will be lighter, stiffer and more responsive than the set you'll be retiring. You'll definitely notice an improvement in how your bike rides and handles. Don't bin your old set though. If you use a turbo to train in the winter, set the rear one up with a turbo training tyre and compatible cassette. You'll save your outside rear tyre getting chewed up and cut out the hassle of changing tyres.
Q: My mountain bike suffers from terrible chain suck in the granny ring. I've replaced chains, rear cassette and the granny ring but not all at the same time.
Each time I change one item it seems better for a couple of rides but once it gets really muddy I'm back to sucking the chain right round the granny ring until it jams!
A: Chain suck happens when the chain does not release from the bottom of the chainring. Instead it sticks to the ring and gets sucked up and wedged between the chainstay and chainring. It's a real pain and, especially on carbon framed bikes, can easily damage the chain.
The first and easiest thing to ensure is that you're keeping your drivetrain clean and well lubricated. A dry or rusty chain is far more likely to suck. Especially in the winter, this means after every ride. Make cleaning, degreasing, rinsing, drying and re-lubing your drivetrain the first thing you do post-ride. It only takes 5 minutes and will probably solve your problem. If you live in a really muddy area and your rides tend to be on the epic side, use a water bottle to give your chain a trail side rinse and then apply some more lube.
If this doesn't work, check to see if your chain has any stiff links and, if it has, loosen them by flexing them from side to side. Next, check for bent or worn teeth on the chainring. Straighten them with pliers, file down any visible burrs or, if necessary, replace the chainring.
For a belt and braces approach you could replace the chainring, chain and cassette in one overhaul and then adopt the after every ride drivetrain maintenance routine we've suggested but we reckon more vigorous and regular cleaning will probably do the job.
Q: My new bike has modern carbon forks, spacers and then the stem. On the stem is marked 7-9 n/m I assume this the torque for the cap screws that clamp the stem to the steerer tube or is it a preload figure for the top cap which would transfer to the headstock bearings when the clamp cap screws are loosened.
I have always tightened headstock bearings to just take out the play and no more but wondered if the modern set up has preload.
A: 7-9 N-m is a reasonably high torque setting and, as you correctly say, will refer to the bolts that clamp the stem to the steering tube. The bearing preload bolt on the top cap should only require 1-3 N-m and, assuming you have the correct number of spacers in place, will remove any play from the headset. If you exceed this you risk applying too much pressure on the bearings and will eventually pit the headset.
Q: MTB riding with friends recently I've noticed that some bikes have a very 'clicky' sound when free-wheeling. I understand that this is due to the type of pawls fitted. My question is; is there some advantage to this type of fitting or is it a 'fad' to be found in bikes of the upper priced category. If there is an advantage (apart from giving advanced warning to pedestrians) I would consider a device on its' merits. Surprisingly all the riders who use this clicky thing don't know the answer to this question.
A: A freehub works like a zip tie. It allows the hub to move in one direction, freewheeling, but then engages once you start pedalling. It achieves this by having a number of pawls which skip over grooves when you're freewheeling but are them pushed into place by springs once you put pressure on the pedals. Strong springs, deep grooves, a high number of engagement points and the number of pawls all contribute to a louder clicking noise as your freewheel.
Another factor is the amount and type of grease used in the hub. Fast and precise pickup is advantageous but having a loud hub isn't necessarily indicative of this. There are some great quiet hubs on the market, so don't make a decision based on noise alone. Cost, weight, durability and ease of maintenance or all factors that should be considered first. Buy a reputable brand and, if the clicking puts a grin on your face, go for it, it's probably why your mates went for them.
Q: My son asked me the question on whether Shimano and Campagnolo cassettes are interchangeable, ie can you use say a Campag wheel and cassette on a Shimano setup. I always thought there is a slight difference and if tried the chain will jump
A: The simple but annoyingly vague answer is, it depends. You definitely can't put a Campagnolo cassette on a Shimano hub or vice versa as the splines are different but SRAM and Shimano cassettes and hubs are cross compatible. If it's a case of dropping a Campag setup wheel into a Shimano groupset, or the reverse, some combinations can work but, with the added complexity of 9, 10 and 11 speed cassettes all currently in use, you're far better off sticking to like with like.
features

latest content

Tackling long climbs

Posted: 13/05/2015
Top tips for tackling long...
Knowledge level: Intermediate

most popular

How to lube your chain

Posted: 17/05/2013
How to lube your chain and keep you bike running...
Knowledge level: Beginner

meet the experts