Knowledge level:
Article posted: 04/11/2013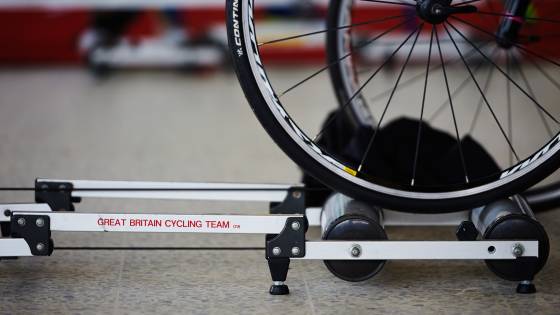 In this feature we look at multi-day rides, indoor trainers, time trials and climbing.
Multi day rides

Many of you e-mailed in asking for advice on preparing for multi-day events and challenges such as Lands End to John O Groats Rides. Training for a multi-day ride is fundamentally no different to preparing for a single day sportive and following the British Cycling Training Plans would provide ideal preparation. Throughout the plan there are back to back weekend rides that will get you used to consecutive days in the saddle but it also may be worth considering a training camp to practice riding for multiple days in a row. Logistics are an important consideration and your goal should be to make all non-riding aspects of the event as easy as you can. Book accommodation in advance where possible, check that they have facilities for bikes and that they'll be able to do an early breakfast. Many organised trips will take care of these logistics for you and even provide back-up vehicles but it's always wise to double check. Pacing is even more important than when riding a single day sportive. During the British Cycling Training Plans you'll learn to pace using heart rate and/or power and, especially on the early days of your ride, when fresh legs and excitement can get the better of you, you'll need to use these training zones to rein yourself in. Going too hard on early days can result in accumulated fatigue that can easily come back to bite you as the days go on. Correct fueling and hydration are also essential and you have to constantly keep reminding yourself that you're not eating and drinking for that moment but for 20-30 kilometers down the road and for the next day. Let yourself bonk or become dehydrated and you'll be compromising your ability to recover and ride well for days afterwards. Recovery is the real secret to multi-day success and, especially if you've a flat run in at the end of a day, it can even start on the bike. Spin in easily and even consider having your recovery drink as your final bottle of the day. If this isn't an option or the day has a tough uphill finish, have your recovery drink ready to go for when you get in and make drinking it your number one priority. Get clean, dry and off your feet as quickly as you can and use these techniques to maximise your recovery.
Indoor trainers
A turbo is a simple triangular frame that you bolt your bike to and, by a roller that presses on the rear tyre, creates resistance that allows you to use your bike as an indoor stationary trainer. Early turbos that used air fans for resistance were incredibly noisy but modern ones that use electronic braking, fluid or magnetic resistance are far smoother and quieter. A new turbo can be bought for under £100 but, by spending a bit more or looking for second hand deals, you should be able to buy a model that has handlebar controlled variable resistance and training feedback, such as speed, distance and cadence. If you're willing to spend more, £1500 plus, you can have full power feedback and even virtual reality training and racing. As well as the turbo you should also budget for a decent rubberised mat to put under it, a "sweat thong" to protect your bike from corrosive sweat and at least one fan. If you're planning on spending significant time on the turbo over the winter but also riding your bike outdoors, it's worth buying a cheap rear wheel with a compatible cassette and a turbo trainer tyre fitted. A turbo trainer tyre won't be chewed up but the harder rubber compound makes it unsafe to ride outdoors. Swapping a wheel in and out is far quicker than constantly swapping your tyres over. A turbo isn't your only indoor training option though and rollers, a stationary bike and even group cycling classes are worth considering. Look here for more information and a comparison of the pros and cons.
Trialling times
Judging by the number of e-mails we've had asking about them, many of you are planning to target PB's at your local club 10-mile time trials in the spring and summer. As we've previously discussed though, the winter should be the time for laying your base endurance and aerobic foundations. If you're already coming from a decent sportive or competitive cycling background, the British Cycling Foundation Plan will be perfect for you. If you attempt to do too much high intensity work too soon, without a solid base, you'll be risking burnout, staleness and injury before you even get to the start line. Don't be tempted to rush into upper end efforts. Build that solid base and remember that even a relatively short event such as a 10-mile time trial is still a massively aerobic discipline and, without good endurance, top end speed and fitness is irrelevant. There are indoor trainer sessions scheduled right from the beginning of the plans and, if time trials are your main focus, you may want to consider doing these in time trial position so that your body adapts to it over the winter. If you're desperate for a competitive fix, try your hand at cyclocross or, if you live near a velodrome, the track. Both will improve your bike handling skills, cyclocross is an excellent threshold and strength workout and track will definitely increase your leg speed and enhance pedaling technique. Look here for more information on riding a 10-mile time trial and here for advice on fuelling evening events.
Up and down
We covered climbing in our first Ask the Experts Feature but, because of the huge number of questions about improving your uphill prowess, have expanded on this answer and produced this definitive climbing feature. What goes up must come down though and we've had many questions about descending technique. The most important thing when going downhill is to stay relaxed. To do this you have to be 100% confident in your bike. Regular maintenance, post and pre-ride checks and especially making sure your brakes are correctly setup are all important. Too many novices and nervous descenders try to go downhill with their hands on their brake hoods. Getting down on your drops gives you a far more stable riding position and gives you more powerful leverage on your brake levers. Don't drag your brakes continuously as it causes unnecessary wear on pads and can cause rims to overheat and, if you've got into the habit of doing this, point your braking fingers to ensure you're not doing it subconsciously. Watch this video for tips on correct braking technique and you can also control your speed on long descents simply by sitting up a bit and using your body as a windbreak. If you're unsure about correct descending technique when riding on your own or in a group, there's plenty of great information and instructional videos here. Once you've watched the videos, put the theory into practice and make good descending as much as a priority as strong climbing.
features

latest content

Tackling long climbs

Posted: 13/05/2015
Top tips for tackling long...
Knowledge level: Intermediate

most popular

How to lube your chain

Posted: 17/05/2013
How to lube your chain and keep you bike running...
Knowledge level: Beginner

meet the experts