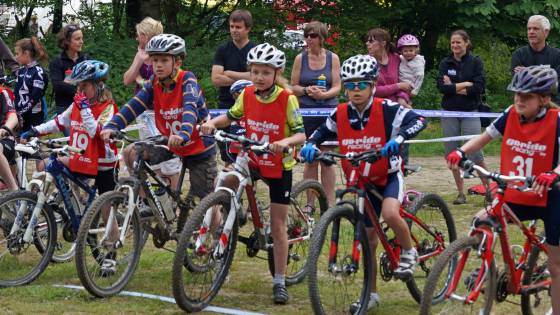 A selection of downloads intended to help event organisers running Go-Ride Racing events. Please note, many of these are large files which may take time to download.
Event organiser resources
Go-Ride Racing kit bag contents
Event registration form
All events must be registered with British Cycling ideally six weeks prior to the event taking place. Please complete and send in this form to ensure the event is registered in time.
Levy Submission Form
All Go-Ride Racing events carry a £1 per rider levy; please send in all levies with a completed copy of this form within 14 days of the event.
Go-Ride Racing role cards
The role cards provide the race organiser and volunteers with information on the tasks they are required to perform for each role and the equipment they will need.
Signing on sheets
Ensure that all riders have signed on before racing on race day by using this signing on sheet.
Lap scoring sheets
Lap Scoring is an essential skill in race judging. This sheet provides a simple table format to record riders as they cross the line on each lap as well as tables to display the total number of laps completed and the final result.
Results sheets
Record final event results on this sheet.
Certificate templates
Go-Ride Racing Certificate - 1st place
Go-Ride Racing Certificate - 2nd place
Go-Ride Racing Certificate - 3rd place
Go-Ride Generic Certificate (Editable)
Go-Ride Racing promotional tools
Editable colour Go-Ride Racing poster (Cyclo-cross)
Editable colour Go-Ride Racing poster (BMX)
Editable colour Go-Ride Racing poster (Speedway)
Editable colour Go-Ride Racing poster (MTB)
Editable colour Go-Ride Racing poster (Road/Closed Circuit)
Editable colour Go-Ride Racing poster (Track)
Editable colour Go-Ride session poster (Girls)
Editable colour Go-Ride session poster