The Grove School in Nottinghamshire recently hosted an inter-school mountain biking competition for its primary school cluster, which attracted seven schools from across the Newark area.
Courtesy of the Newark Advertiser
Each school provided teams of four boys and four girls who took part in races over three laps of a technical and challenging course to determine an overall champion. This was followed by a school team relay with all four riders completing one lap of the course in turn.
The event was part of an ongoing cycling development programme, organised by British Cycling East Midlands Go-Ride Coach Steve Crosland. Several schools in the area have benefited from coaching sessions in curriculum time, which has led to many local youngsters joining new Go-ride club Newark Castle CC.
The girls' race saw Isabel Darvill of Chuter Ede Primary School dominate both her heat and an exciting final over two laps of a testing course, with Georgina Page of Winsthopre School taking second place ahead of Hawtonville's Sophie Trickett.
In the boys event Josh Osbourn of Winsthopre School was the surprise winner ahead of Adam Eurich ( Hawtonville ) who rode a great race to finish ahead of Harry Troop of Chuter Ede.
The relay events were both exciting affairs with the girls' title going to Winsthorpe Primary School, with Chuter Ede taking runner up spot ahead of third placed All Saints of Elston.
Hawtonville took victory in the boys' event from Chuter ede and again All Saints finishing in third spot.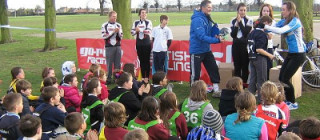 Six schools supported the Festival with 48 children taking part in total, the vast majority riding a mountain bike race for the first time. All riders performed really well and were a credit to their schools.
Go-Ride Coach, Steve Crosland, said: "It's great to see so many schools supporting this event; there is a real wealth of talent in the Newark area. The local club is growing from week to week and we have some great riders coming through who are going to be stars in the future."
Jon Johnston, MD of Matrix Fitness – sponsor of the Matrix Fitness–Prendas racing team added: "As a company that actively encourages participation in exercise, physical activity, and competitive sport, we were delighted to support this initiative and arrange for one of our riders – National Champion, Hannah Walker to attend the event.
"By sharing details of her own journey through the cycling ranks, we've hopefully provided inspiration to the students to get active."
---
Further information:
Phone: 0161 274 2070
Email: go-ride@britishcycling.org.uk