The next event will be held on the 28th November. For more information, contact

---
As the dark nights start to draw in, Go-Ride Coach Steve Crosland is ready to show young riders in the East Midlands that a lack of daylight does not necessarily mean a lack of racing.
Based in the Nottingham area, Steve has worked closely with several clubs and schools in the region to ensure enthusiasm remains for cycling during the winter through the introduction of Nightrider – Go-Ride Racing Nocturne style.
Nightrider races take place as after school Go-Ride Racing events and prove to youngsters – and parents – that dark nights do not have to mean an end to outdoor activity.
Steve marks out the course as with any normal Go-Ride Racing event; signs on riders as with any Go-Ride Racing event and scores and officiates the action as with any normal Go-Ride Racing event. The only difference is that the kids arrive armed with lights on their bikes (a small provision was provided by Nottingham Clarion for youngsters who had not got lights).
At his last event in March, each rider had two opportunities to race over two to five laps depending on age, followed by an Italian Pursuit which saw nearly 50 riders on the course at the same time! The race came as part of a series of regular sessions, and Steve was please with the standard of competition.
He said: "The sessions beforehand were set up with Nocturne Racing in mind and I was delighted with how supportive staff and volunteers from the nearby Go-Ride clubs and schools were.
"We were working with 60 children every Wednesday and discovered a goldmine in terms of cycling talent.
"I'm hopeful that a high percentage of children who have taken part in the British Cycling coaching and racing will have taken the next step and joined their local cycling club in order to continue to enjoy racing."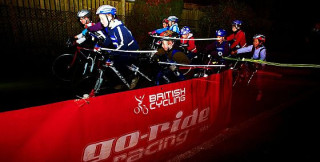 Go-Ride Racing is British Cycling's initiative to help young riders make the transition from school or club coaching sessions to inter-club and open regional competition - and new initiatives such as this, no matter how simple, are always welcomed.
Andrew Chaston, British Cycling's National Development Manager for Clubs and Volunteers said of the idea: "Steve really should be congratulated for developing such a simple solution to an unavoidable obstacle. Nightrider is a fantastic way to continue Go-Ride Racing despite daylight hours diminishing.
"Nightrider is a simple but hugely effective format which provides a unique challenge to the youngsters taking part, posing different questions of their bike handling, communication and observation skills, which may not always be so obvious during a daylight race.
"The young riders themselves clearly love the experience of racing in the dark, so from our perspective it's a win-win initiative, and one that we would love to see taking place nationwide."
The next Nottingham Nightrider event will be held on the 28th November. For more information, contact go-rideracing@britishcycling.org.uk
---
This article first appeared inthe Winter edition of Go-Ride Magazine. To be added to the mailing list, contact development@britishcycling.org.uk
Check out The Hub's new Facebook page for more photos and Go-Ride updates. The more 'Likes' we get the better!
The Hub is British Cycling's exciting new membership package for Under 16s. To find out more, click here!