---
Redditch Road and Path CC held the second round of their Muddy Mayhem Go-Ride Racing series and it was to truly live up to its name. A full day of cyclo-cross lay ahead for an army of volunteers, parents and riders alike. The challenge was to make the courses interesting but also ride able in the woods and fields within Morton Stanley Park.



Over 50 children turned up on an array of machines from balance bikes to full carbon cross bikes. A beautiful sunny Saturday afternoon was met with enthusiasm from everyone. With planned courses having to be shortened just so the riders could cope with the amount of mud around, it proved to be as tough as it was warm.

The largest group of the day was in the under 7's race where 19 riders battled it out, slipping and sliding around the corners, with a tough uphill finish on tarmac providing some respite. Lewis Tinsley from Stratford won the boys category and Phoebe Strain from Redditch took the Girls category. The youngest rider Arly Berry (3) on his balance bike, not only managed the steep hill, but also completed six laps compared to the winners eleven.

The under 9's proved to be the closest race of the day on a longer course including a tricky, uphill sticky, muddy, wooded section. Fifteen riders started, with Joe Brookes (Halesowen) sticking almost literally to the rear wheel of Redditch's Sulli Berry for the whole race. Friends off the bike and rivals on it they distanced the rest and battled it out for ten minutes, pushing each other to their limits. Berry was to cross the finish line first after a strong final uphill section just a few seconds ahead of Brookes. Just to finish the course was an achievement for all the riders and Cerys Simmonds from Stratford finished first girl.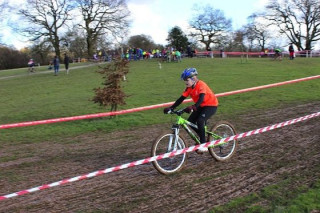 Older brother, Luke Simmonds, took another win for Stratford in the under 11's category on a course where the cruel organisers had added yet another muddy wooded section with a log jump, just to make it even harder. This was now a really tough course, but all the riders completed it with aplomb doing their coaches proud. The first under 11 girl was Holly Styler. Jasmin Mulkerrin, Severn Valley Velo did well just to finish as her bike became so clogged up with mud the wheels wouldn't turn; so a short stop and a bit of mud clearing from organiser Paul Berry got her on her way again.

The last race was for the under 13's and under 15's; a varied group of riders took to the start line. Stratfords Kier Lewis took the win for the boys and Redditch rider Annie Lyndsey for the girls. A special mention goes Fergus Regan and Harry Bates who both battled hard in their first ever cyclo-cross race - well done guys.

All in all the weather was great and there was some close racing and a lot of mud and smiles, a fair bit of laughter and some really great achievements in all races. Everyone vowed to return to the Redditch Summer series which will hopefully be in better conditions.

For further information about activities and sessions at Redditch, visit the clubs website here.
---