---
Cycling Hub Schools is a partnership between the Youth Sport Trust and British Cycling, aiming to raise the profile and participation of cycling among young people.
The two organisations have been working together over the past two years to ensure that the schools involved in the initiative become a beacon of best practice in cycling delivery and development in schools.
The 12 schools have accessed a number of courses, including a range of National Standard Instructor and Continued Professional Development courses, such as Delivering Inclusive Cycle Training: Disability Workshop and Cycling for Schools to participants within the school workforce. The aim is so that Bikeability, Go-Ride and Mountain Bike Leadership is embedded into day to day activities.
The schools were selected by British Cycling and the Youth Sport Trust as Hub Schools because of their commitment to the sport. The schools have been learning how to engage young people in cycling and they will be responsible for using the sports to impact on student's attainment and on whole school improvement.
The hubs will act as advocates for cycling and work with a number of schools in their locality to raise awareness of cycling and encourage them to provide opportunities for even more young people to get involved.
The Cycling Hub Schools include:
- Callington, Cornwall
- The Deanes, Essex
- Biddick, Sunderland
- Capital City, London
- Vandyke, Bedfordshire
- Our Lady's, Manchester
- City Academy, Norwich
- Hamstead Hall, Birmingham
- Paignton, Devon
- Holmfirth, Yorkshire
- Swanwick, Derbyshire
- Mountbatten, Hampshire
If you would like to find out more about becoming a cycling school club, please contact the Go-Ride team on 0161 274 2070; go-ride@britishcycling.org.uk.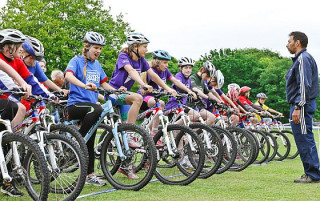 Spotlight on. . . . Amber Valley School Sport Partnership
As part of the Cycling Hub School project, Amber Valley SSP introduced Go-Ride Racing into the school's competition calendar using support from two local Go-Ride clubs and their regional Go-Ride Coach, Dean Hughes. Initial interest was high and the initiative has since gone from strength to strength, developing into a league for primary aged students, providing regular opportunities for young people to get involved in entry level racing.
Cycling has now been introduced as a pilot to the Level 3 School Games, with both a primary and secondary activity taking place during the event on the 8 July 2014.
Upcoming plans for the future include introducing a balance bike competition for Key Stage 1 pupils, a secondary programme that will involve a coach delivering a four week period of Go-Ride sessions and further developing the relationship with the local Go-Ride club.
The School Games formats are easy and simple to set up and can be accessed by clicking here.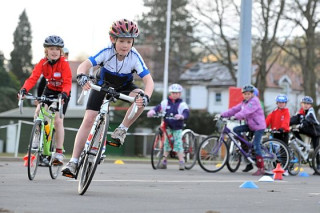 Spotlight on. . . . Holmfirth High, Pennine Sports Partnership
As part of the Cycling Hub Schools Project, Holmfirth High hosted a Cycling Award for Young Volunteers workshop to provide young people with the opportunity to develop their leadership skills. The aim was that these young volunteers would be able to lend a hand at both intra and inter school competitions, which take place across the partnership. The programme has been a big success and the school now has six Young Volunteers to support its ambition to get more young people cycling.
One volunteer in particular – Tilly - has gone from strength to strength and since attending the Cycling Award for Young Volunteers course, has gone on to achieve her Gold Award (36 hours), attended a National Young Officials Academy as a British Cycling Young Volunteer and will be attending an Olympic Development programme training camp later this year.
---