---
The Go-Ride Conference preparations are in full swing and this year is set to be jam packed full of opportunities for Young Volunteers to get involved, get qualified and get active in order to take their next steps as club volunteers. At the conferences in March, there'll be the opportunity to get involved with the National Youth Forum, learn about the National Young Officials Academy and find out how Young Volunteers can be a part of one of Britain's largest School based event – the School Games.
Current Young Volunteers workshop
The focus of the Young Volunteers workshop is all about local and national opportunities available for Young Volunteers, to help them to develop their skills. Young Volunteers will find out how to implement new-found skills and use the knowledge gained in their local Go-Ride community clubs. The completed Young Volunteer pathway will also be presented at the workshop, showcasing the full range of areas to get involved with. We'll also be highlighting all the developments for this year, including Rider Development Sessions for coach development, bursaries for coaching courses and events like the residential programme, the National Young Officials Academy.
A dedicated Q&A session for Young Volunteers will also take place at the end of the day; this is the chance to ask any questions about volunteering, cycling or the different roles available, with responses from experienced Young Volunteers that have progressed through the programme, as well as representatives from British Cycling.

Quick-fire Update
Alongside the workshops, there will be a number of quick-fire updates, giving everybody the opportunity to hear each update and ask questions. The topics will include the Go-Ride Tour, Skills Awards, National Youth Forum, the Club Management Tool and Disability.
National Youth Forum
The National Youth Forum update aims to be particularly useful for current Young Volunteers. This will give an overview of the group, what its aims are, what progress this year's National Youth Reps have made during their first year in action and how you can get involved going forward.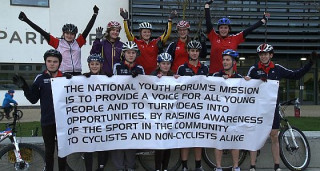 This year's Go-Ride Conferences will take place on the following dates:
Sat 8 March: Dartford
Sun 9 March: Reading
Sat 15 March: Leicester
Sat 16 March: Bridgwater
Sat 22 March: Durham
Sun 23 March: Manchester
To book your FREE place, please download and complete the following form:
For further information:
Phone: 0161 274 2070
Email: youngvolunteers@britishcycling.org.uk

---