---
At the 2014 Go-Ride conferences, the club welfare officer workshop will provide the chance to discuss key issues, such as dealing with conflict, managing social media and a DBS update.



Club Welfare Officers
As an integral member of every club, we want to support all Go-Ride club welfare officers in ensuring that new and experienced cyclists have a positive experience within our sport. In order to achieve this, we have developed a cycling-specific club welfare officer workshop, based on the information provided in response to the Club Welfare Officer Survey.
The workshop will cover a number of issues, with the main focus on dealing with conflict. This section of the workshop will include identifying types of conflict and how to resolve conflict both informally and formally.Group discussion and role play will be used to put into practice the knowledge gained throughout the workshop. Following this, there will be a section giving guidelines on the use of social media by the club and its members, as well as an update on DBS requirements.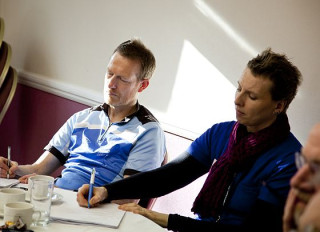 Quick Fire Updates
Alongside the dedicated workshop, there will be a number of quick fire updates, giving everybody the opportunity to hear about the Go-Ride Tour, Skills Awards, the National Youth Forum, the Club Management Tool and Disability.
This will give Club Welfare Officers the opportunity to plan for developments within their club over the coming year, and ensure both existing and new young members feel welcome and part of the club.
The Go-Ride conferences take place across the country throughout the month of March. Places are free to Go-Ride club members.
If you haven't yet let us know you're coming, please download the online invitation at the top of this page and return it via email to: go-ride@britishcycling.org.uk
---