---
Many of our Paralympic cyclists have come through or are members of Go-Ride clubs, such as Jody Cundy, Darren Kenny and David Stone. We are keen to provide an increased number of cycling opportunities for riders with disabilities through our club network, so that cycling is accessible for all.
Hackney BMX
When Hackney BMX club was established, coach Paulo Cotrim was keen to organise a session for deaf and hard of hearing young people. Paulo attended a free course, Making activities deaf friendly, run by the National Deaf Children's Society (NDCS). It covered topics such as communication and how to adapt activities.
The club worked in partnership with the NDCS and Access Sport to deliver a highly successful Deaf BMX Day, which took the form of a taster session facilitated by NDCS support staff and focused on breaking down the barriers young deaf people face when looking to participate in cycling.
There were 20 attendees on the day and a number of those have now become members of the club. Promotion for the event also encouraged a donation from a member of the public, which allowed the club to buy new bikes. More sessions are now being planned at Hackney.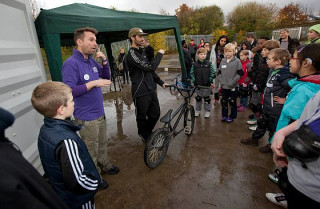 Eastlands Velo
In August, Eastlands Velo hosted a disability open day in partnership with Greater Sport, the county sports partnership for Manchester. The day saw around 15 young people with varying disabilities access the iconic Manchester Velodrome.
The riders with disabilities were initially paired with able-bodied club riders and split into three teams. Events included a standing 500m time trial and a flying 200m time trial, with points accrued according to the results. Medals and prizes were awarded for both performance and contribution in each competition and by the end of the day, some of the participants had the confidence to ride solo. The event was a real success and supported six different disabilities, including autism, cerebral palsy and partial blindness.
Organiser and coach, John Daly, said: "Every person who attended seemed to have a fantastic day; it was at times quite emotional for some, including the coaches. "Everyone wanted to take part in some way and help where they could, it was a fantastic feeling that was buzzing around the place."
Supportive family members, Colin and Joshua Russell, said: "Both Amy and Matthew enjoyed the day. It was a great experience for us and especially for Amy, as disabled opportunities don't arise that often for children and she wouldn't be able to keep up with the mainstream track taster session."
Coaching Riders with a Disability workshop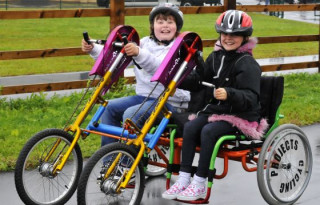 To increase coaches' awareness of coaching riders with a disability, the new disability workshop demonstrates how sessions can be made inclusive for both riders with a disability and non-disabled riders. Modules include familiarisation with adaptive equipment, communicating with individuals with different needs and delivering inclusive coaching sessions.
If you would like to find out more about making your club more inclusive, please contact the Coach Education team on 0161 274 2060 or coaching@britishcycling.org.uk.
---