---
In August, two of our volunteers attended a Go-Ride Racing event in Watford, which received some very special visitors…
To mark an announcement about measures to ensure 'cycle-proofing', the Prime Minister dropped in on a Go-Ride session in Watford. 'Cycle-proofing' is British Cycling's term for the practice of designing provision for cycling into all new roads and junctions. Here's an account of the day from young volunteers, Elizabeth and Lauren.
On Monday 12 August, Cassiobury Park in Watford was transformed into a Go-Ride race course. Children of all ages got involved – from eight to 18 year olds. Races started in the morning, where the riders battled it out for a place in the final for their age groups. The races were action packed and adrenaline fuelled, filled with excitement, if a bit hectic!
Coming to watch the event was none other than the Prime Minister, along with Olympic and Paralympic athletes, Sir Chris Hoy, Victoria Pendleton and Jody Cundy. Also joining in on the action was the former president of British Cycling, Brian Cookson, and performance director of British Cycling, Dave Brailsford.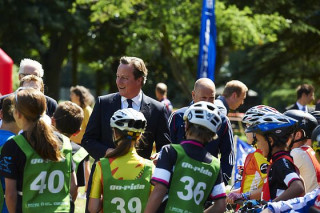 All of the riders who attended were from clubs from the surrounding area, who wanted a chance to race in a Go-Ride event. Starting off the day were the younger riders, who showed up some of the older ones with their speed and skills on the course! The young volunteers' race took place later in the day; the competition was fierce, no one wanted to lose.
Many of the young riders and volunteers were able to get their pictures taken with the famous guests, and autographs signed on their shirts, books and 2012 Olympic tickets. There was excitement all around as the young people scurried over to get their photos, before the final races took place.
After all the races were complete there were some non-competitive races, where young people were able to try the knock out race for fun, even though many treated it as a real race.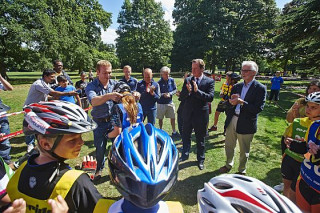 At the end of the event, Brian Cookson, the former president of British Cycling, gave out prizes to the winning riders.
One of the riders on the day, Joshua Stirling, said: "It's great to know that we are supported in the sport that we enjoy most and it was fantastic that Sir Chris Hoy and Victoria Pendleton showed their faces to support us; what great role models they are."
Well done to all those who competed and a big thank you to all the people who organised the event and made it such a fantastic day.
---