---
On 13 November 2013, the Active Essex Sports Awards were announced. The awards recognise sporting achievements and celebrate those at a local level, the unsung heroes of sport, who work tirelessly behind the scenes to make sure that local talent has the opportunity to progress.
Go-Ride Clubmark club, Braintree BMX, won Community Club of the Year and one of its young volunteers, Lana Redgewell, a Cycling Award for Young Volunteers (CAYV) gold graduate, won Young Community Volunteer.

Young Community Volunteer
Lana was nominated for all the volunteer hours she has completed for Braintree BMX Club and the designing of the new start gate and regional race jerseys. She completed her gold CAYV award in less than three months. Lana has been described as 'a young woman who will not think twice to help out with the coaches and the young kids. She has worked hours to design shirts for the whole of the East Anglia clubs for the British Champs and she regularly attends schools with the coaches to help with the kids.'
Other comments are that 'she is a very enthusiastic, energetic and willing young person who is not only involved in her club but for the region of East Anglia, bringing smiles to other young people wherever she's present.'
Lana's volunteering work has included:
Assisting with training sessions for beginners and intermediates
Promoting BMX at Active Essex Day in Chelmsford
Designing spectator t-shirts for British National BMX Championships
Designing East Anglia Championship programme
Attending ongoing training and development
Designing the front of the BMX start gate

Community Club of the Year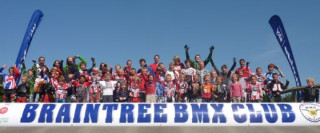 Braintree BMX Club has been running for 29 years and continues to go from strength to strength following the achievement of Go-Ride Clubmark status in 2009. The club currently has 130 members who access both regular coaching and racing at all levels from club to world events. It caters for children as young as four to adults as old as 94! Whether you are a complete novice or a seasoned pro, you are made to feel included as part of the club and offered many opportunities, help and advice to progress in the sport of BMX racing.
Braintree BMX Club is set at the heart of the community and aims to be a force for good to all those who visit. Over the past few years, the club has grown in size and held national level races in three consecutive years and was awarded Event of the Year by British Cycling.
Club Secreatary, Julie Watts, said: "We benefit greatly from our very committed team of coaches who not only run regular coaching sessions, but are also at most race meetings supporting and coaching riders often whilst competing themselves. The club is a very friendly place to be, we love what we do and the facility we have and therefore love to welcome new riders and families into the family of BMX and show off what we do best."
During the awards, the audience was also introduced to the Inspired Athletes 2013 who are helping local organisations to promote sport across Essex. Amongst these talented athletes were cyclists, three of whom are members of Go-Ride clubs:
Crystal Lane, Para Cycling (Chelmsford)
Matthew Hamilton Cycling (Lee Valley Youth CC – Go-Ride)
Oliver Swallow, Triathlon (Braintree)
Lana Redgewell, BMX Racing (Braintree BMX – Go-Ride)
Shane Redgewell, BMX Racing (Braintree BMX – Go-Ride)
These athletes have received financial support to help maximise their potential on their own sporting journey towards elite competition and they will also support the sport and physical activity landscape by acting as role models and ambassadors to inspire the community to be more active.
Please click here to view all the winners and photographs.
---