---
Welland Valley CC hosted the first of their two autumn Go-Ride Racing events on Saturday August 24 in the picturesque setting of Misterton Hall, near Lutterworth. The local weatherman had predicted a "soft" afternoon with 40mm of rain and although the sun didn't shine, it stayed dry much to the delight of the 45 riders and their parents.



With races for all age groups from under 6's to under 14's there were plenty of opportunities for the riders to stretch the legs. The club had prepared a new 590m course, which was mainly flat, with some technical sections in the shrubs and fields around the hall, to really test the riders.
Stage 1 was a short one or two lap blast around the course, however as the under 6 riders were at risk of getting lost in a section of particularly long grass their lap was shortened to 500m.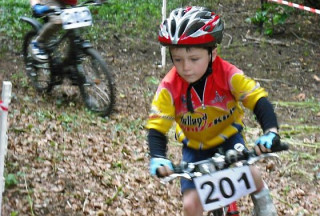 Stage 2 was a longer endurance event over the same course. Prior to getting down to the serious business of racing to familiarise themselves with the course, all the riders were escorted around by local riders Eve Lyon and Charlotte Broughton who passed on some of their experience and tips to the youngsters.

Overall positions were based on the results from both races and there were some noteworthy performances and classic scraps during the afternoon. Will Bradshaw winning the under 6 race ahead of the improving Hannah Henderson. In the under 8's George Timmins led both races from start to finish pursued by Dom Switzer and Huw Wilson who battled for the second place and ended up tied for silver, but only just ahead of Fay Garner as first girl. It was a similar story in the under 10's with Matty Garner leading James Bradshaw and Edward Hopkins scrapping for second. The under 12's and under 14's ran as a combined race and there was some fierce battles, but Louis Jakobson claimed the under 12 win and Frazier Ayres winning the under 14's.

Welland Valley Whizz Kids would like to thank all the parents for their support and assistance and to Mrs Craven of Misterton Hall for her hospitality and the use of the front garden. Thanks also goes to Ian Mansfield, young volunteers Jack and Oliver, Louis le Cakes for selling refreshments to raise money for an educational trip to Peru next year, George Barnett, George Halls Cycle Centre, Alden Electrical and British Cycling.

For further information about the sessions and events ran by Welland Valley Whizz Kids and please visit the club website.
---