---
Join In, the home of the Olympic and Paralympic volunteers, has launched a summer long drive to encourage people to volunteer in their local communities.



As part of this, Go-Ride clubs - Mossley Cycle Racing Team and Dowson Primary School - have thrown open their doors to attract new volunteers, supporters and riders who may never have been involved in their local communities before.

Over 80 people attended Mossley CRT and Dowson Go-Ride Racing event last week, at Tameside's Cycling Circuit. One year on from the huge success of the London 2012 Olympic Games, the event re-created some of the spirit of last summer to encourage members of the local community to come along, get involved and hopefully be inspired to Join In and lend a hand.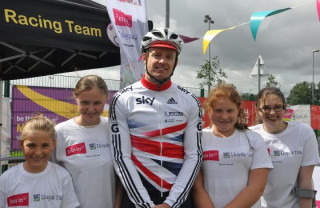 The event saw Team GB cyclist, Matt Crampton, help volunteers to set up the event, hand out bibs to riders, wave the flag on the finish line and give coaching tips to the young riders – demonstrating that everyone can play their part and volunteer their skills. Young riders aged five to 16 were also put through their paces in a skills session and Go-Ride Race.

Janis Hett, Dowson Primary School, said: "In partnership with Mossley CRT and Join In, Dowson Primary School is able to extend its cycling opportunities to more people this summer. The key focus of our event is to support more young people from Tameside cycling and we have had the opportunity today to encourage more people to try this. Sharing our Go-Ride event with 'Join In' and having an inspirational athlete like Matt Crampton here, has been a great opportunity for us and we hope it will encourage more people to participate."

Matt Crampton, Team GB cyclist, said: "Join In 2013' is incredibly important. It will provide a strong catalyst to encourage local communities to find out more about, and get involved in, their local sports clubs and initiatives. I encourage as many people as possible, regardless of whether they want to participate or volunteer, to find out about 'Join In' events in their area and get involved. They will find it hugely rewarding if they do."

Matt added: "Mossley Cycle Racing Team and its volunteers were instrumental in my career as a cyclist, offering me a safe and supportive environment to learn the necessary skills for cycling and underpinning training knowledge which led me to becoming a professional cyclist. I am very thankful for their time and dedication. People like Fred Hewitt, Mossley CRT Head Coach, have given their time to help young people get into the sport and help cycling grow. Mossley has played a huge part in developing cycling in the North West."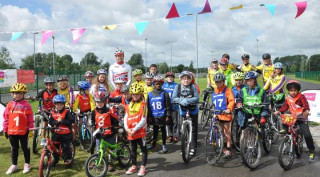 Go-Ride Coach, Simon Wilson said "It has been a fantastic event and great to see so many keen young riders and volunteers. I'm looking forward to working with Mossley CRT/Dowson and seeing everyone at future North West Go-Ride Racing events"

Mossley CRT and Dowson Go-Ride is a sports partnership between local club and primary school offering coaching sessions for all abilities on a Wednesday and Friday evenings. Everyone is welcome to come and lend a hand or get involved. Go-Ride clubs have something to offer everyone; whether it is riding or volunteering you are interested in, there are opportunities to suit all. There are over 280 Go-Ride clubs across the country offering fun, affordable, safe sessions in traffic free environments – to find your nearest Go-Ride club visit the club finder.

Go-Ride Racing is British Cycling's exciting entry level competition for novice cyclist under the age of 16 helping young people make a gradual transition into competitive cycling. Young people who are new to the sport, whether they have joined a Go-Ride club or simply taken part in school coaching sessions can find the concept of racing very daunting. Turning up at your first race to find that a lot of the riders have far greater experience and what looks like very specialist equipment has often proved to be a barrier to competition for many riders new to the sport. For further information or to search for an event in your area click here. Alternatively, if you are a Go-Ride club interested in hosting your own events, contact Jenny Nicholson on 0161 274 2019 or jennynicholson@britishcycling.org.uk
---