---
On Wednesday 17th April Team Sky's Ian Stannard spent the afternoon at the MK Bowl with a number of children aged 8-12 of his former cycling club Team MK to inspire, train and share experiences with them.



Go-Ride Clubmark club Team Milton Keynes run regular coaching sessions and a very successful Go-Ride Racing series, which recently helped them to achieve Clubmark re-accreditation. This achievement highlights the club's continued commitment to developing a high quality, welcoming environment for all young people wanting to get involved in cycling.

Cycling component manufacturer Shimano recently launched an initiative that saw several Pro cyclists return to the cycling clubs where they started their journey to the pinnacle of the sport, with the hope of inspiring a new generation to follow them.

The children got to cycle with Ian, from Milton Keynes, for much of the afternoon and after a well earned break were given the chance to interview Ian. They were also given a master class by a Shimano pro mechanic on maintaining their bikes.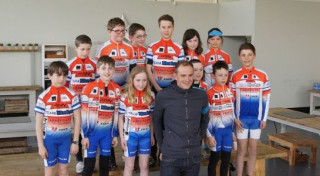 The experience was filmed by a European Marketing agency to be used as part of Shimano's 'Believe' campaign. Watch the video on our British Cycling Go-Ride Facebook page here.

For further information about club activities and sessions, please visit the club website.
---