---
Last week, the Go-Ride team took up their invitation to the Queen's reception at St. James Palace, London. The team had the chance to not only meet the Queen herself, but to discuss the developments in cycling over the past few years. Having the chance to meet other organisations working with volunteers and collectively celebrate the success that has been achieved was a real highlight, and testament to the hard work and time contributed to the sport.

British Cycling is one of sixty organisations to have been recognised with The Queen's Diamond Jubilee Volunteering Award 2012 for successfully harnessing the hard work, commitment and generosity of volunteers to change Britain for the better, the Cabinet Office and Buckingham Palace announced today.
The list of recipients reflects the diversity, optimism and excitement of a national year of celebration. The Award recognises well known voluntary groups which have made a contribution throughout Her Majesty's sixty-year reign, alongside newer organisations that engaged volunteers specifically to support the Olympic and Paralympic Games and to build on the sporting legacy of London 2012.
British Cycling has been recognised for its contribution to engaging with young people through the Cycling Award for Young Volunteers programme, which encourages 14-18-year-olds to volunteer with the their local cycling clubs.
We now have over 600 young volunteers creating more opportunities for young riders in Go-Ride clubs by taking on roles and responsibilities in coaching, club management, race planning and officiating. One of the programme's key modules is called Racemakers, which was also awarded the London 2012 Inspire Mark, for helping young people get started in the world of race organising.
As well as delivering practical support, British Cycling's young volunteers are also an invaluable source of inspiration for young riders according to Andrew Chaston who heads up the programmes through his role as Development Manager for Clubs and Volunteers.
He said: "We are delighted to have been recognised by the Queen with this prestigious Award. It is a great endorsement of the work we are doing to engage with young people, and of the contribution they are making as volunteers in schools and communities throughout the country.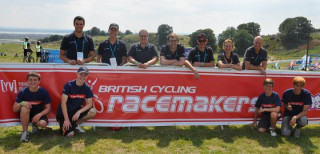 "The Cycling Award for Young Volunteers programme has been in place since 2009 and in that time we have trained over 600 young volunteers, many of whom have gone on to become integral volunteers with their clubs. In addition, 250 of those volunteers have completed the Racemakers module to enable them to plan and deliver local cycling races, ensuring grass roots cycling is in good health with volunteers and events organisers for the future."
Alongside British Cycling, other household names honoured are the Royal National Lifeboat Institution, St John's Ambulance, Victim Support, Marie Curie Cancer Care and Girlguiding UK. By training hundreds of thousands of volunteers, they have raised millions of pounds and have offered a huge amount of support to those in need.
Martyn Lewis CBE, Chairman, Queen's Diamond Jubilee Volunteering Award 2012 Committee, said: "The sixty organisations honoured today with The Queen's Diamond Jubilee Award for Volunteering 2012 have built their success on the dedication and generosity of thousands of extraordinary people, each of whom has devoted their time and energy to the simple aim of making their communities – and their country – a better place.
"Day-in, day out volunteers are making a contribution to every aspect of our society – working with the elderly, supporting young people and reaching out to those in need. Volunteering is as fundamental to British life as rain at Wimbledon or the local pub – and what better way to recognise it than with an Award from Her Majesty in her Diamond Jubilee year."
The Queen's Diamond Jubilee Volunteering Award 2012 was announced in February 2012 to commemorate Her Majesty's sixty-year reign by recognising voluntary groups that operate across the UK or in the one of the four home nations.
It is a special, one-off, category of The Queen's Award for Voluntary Service (QAVS), which was established in 2002 as part of the UK honours system to recognise the work of grassroots organisations at a local level. During the past ten years, over 1000 community groups and local charities have received this prestigious honour.