---
British Cycling has been recognised for its achievements at elite and grass roots levels in London this year at a prestigious awards ceremony.
The Balfour Beatty London Youth Games Hall of Fame and Annual Awards took place at Lord's Cricket Ground on Tuesday 9th October and Olympic women's team pursuit gold medallist Joanna Rowsell and the National Governing Body both picked up awards.
Rowsell was among six former London Youth Games competitors inducted into the London Youth Games Hall of Fame on the night, joining an elite band of sporting luminaries which already includes Bradley Wiggins, Mo Farah and David Weir.
Meanwhile, the Community Partner Award in Association with Sport England went to British Cycling and London sport charity Access Sport, whose combined efforts in 2012 saw the launch of the first ever London Youth Games BMX competition, which featured teams from more than half of the 33 London boroughs.
The 23 year old Rowsell took part in one of her first ever competitions when representing Sutton eight years ago at the London Youth Games before graduating to the GB women's team pursuit trio.
In 2012, she has enjoyed a dream year; breaking the world record on numerous occasions, winning World Championship gold in Melbourne, culminating in Olympic glory in her home city this summer.
Following her induction, Rowsell said: "It feels very special. I'm very honoured to join the Hall of Fame. I competed in the London Youth Games cycling back in 2004. I basically had to do four laps as fast as we could individually so it was quite a simple task but I was quite new to cycling.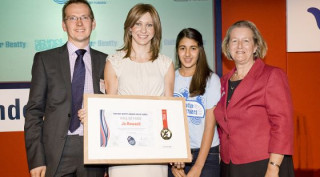 "It was one of my very first bike races so I was very honoured to represent the London borough of Sutton as it felt to me like a very big competition. You're against all the other boroughs so it's very competitive and a great thing to be a part of.
"I'd had no experience of bike races so it was great to go along to one of my first races as part of a team, representing Sutton and its volunteers and organisers and competing against the other boroughs and I think it was a very valuable experience."
Asked on her advice for any prospective young cyclists, she said: "Try out all different disciplines; track cycling, mountain biking, BMX and road cycling. Give everything a go but don't take it too seriously until you're at least 16."
On the award for British Cycling and Access Sport, London Youth Games Chairman Anthony Kendall said: "The launch of the BMX competition has been one of the great successes of a record-breaking London Youth Games year.
"With over half of London represented at the inaugural event, the work of British Cycling and Access Sport has enabled BMX to settle quickly into the family of 30 sports that forms the London Youth Games."
Guests at the prestigious evening could also enjoy several sports demonstrations and take in an exclusive exhibition of some of the prizes won by former competitors in 2012 including the UEFA Champions League Trophy (Ashley Cole) and Tour de France yellow jersey (Bradley Wiggins).
The London Youth Games is Europe's largest annual youth sports event with 33 boroughs competing across 30 sports on 25 event days. The first event of the new season is the cross country at Hampstead Heath on Saturday 17 November.
2012 LONDON YOUTH GAMES REVIEW VIDEO:
www.youtube.com/watch
---