Following an amazing couple of weeks for British Cycling, our medal winning athletes are now hoping that their incredible performances can inspire the next generation of cyclists through the Go-Ride Games.
Lizzie Armitstead picked up Team GB's first cycling medal in London with a Silver in the Women's Road Race and her efforts kick-started a remarkable run which has seen our nation's cyclists pick up a further 11 medals since – eight of which have been gold.
Lizzie's performance saw her become a household name overnight and it has been well publicised that she was spotted during a school event at the age of 16. Now she is hoping that the incredible number of fans seen on the streets of London during the road race will be reflective of a new influx of young people taking to the sport.
"It has been amazing to see the excitement in London during the Games" said Lizzie. "I've never seen so many people cheering us on – now I just hope the kids who shouted for us are inspired to get involved and get down to a Go-Ride Games event.
"I can't wait to see the thousands of youngsters taking part in the Go-Ride Games and just want to say good luck to everyone involved. I hope you have a great day and enjoy bike riding so much you'll come back for more!"
Lizzie has been backed up by her teammate Ed Clancy, who picked up Gold and Bronze medals in what has become the loudest venue in London – the Velodrome.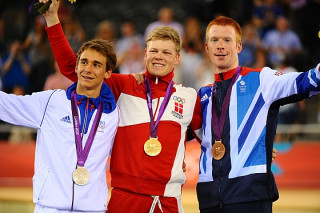 He said: "London 2012 has been incredible for all of the riders and it would be great if we could now see lots of young people get started in cycling through the Go-Ride Games. Riding with a club is the best way to learn new skills and improve as a rider so get down to your nearest event and see how you get on!
"I'm sure you'll love it!"
Shanaze Reade is still hopeful of adding to the Team GB medal haul, but as a long time supporter of Go-Ride is equally excited to see lots of new people join the sport.
"Go-Ride clubs offer every young person the best route into cycling and are the best way of getting riding experience throughout the country."
Starting this Saturday, the Go-Ride Games will see cycling clubs in England, Scotland and Wales stage exciting Olympic-style events, meaning that there is sure to be either a race, a coaching session or a club activity happening near you over the next couple of weeks.
For more information on how to get started in cycling, click here for a full calendar of upcoming events.