Kids across England are being encouraged to get on their bikes this summer, with more than 300 free events from British Cycling clubs helping them to discover the joy of riding and racing.
Club events will run from June to September and include free coaching, group rides, entry-level racing and access to cycling facilities, as British Cycling looks to harness the inspiration of August's UCI Cycling World Championships.
The events have been made possible thanks to grants offered by British Cycling and Sport England, as part of a wider ambition to provide children and young people with fun and accessible opportunities to ride. In total 100 clubs will receive funding, with many hosting regular free activities throughout the summer months.
Events will be hosted across all 10 of the English regions, and will complement the Ride the Worlds campaign being delivered by Scottish Cycling as the event's Official Activation Partner in Scotland. Further details on events being delivered by Welsh Cycling to inspire young people this summer will be published in the coming weeks.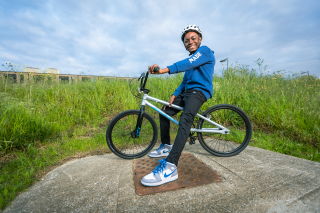 Launching the Summer of Cycling, three-time Olympic champion Ed Clancy said:
"Like so many people I benefitted hugely from riding with friends in a club when I was younger, and as we look ahead to a huge summer for the sport, I'm so pleased that thousands more kids will have the same opportunity.
"Thanks to the support of our amazing club volunteers and coaches, there are now more opportunities than ever for young people to get into riding and racing, develop new skills and make friends for life."
All Summer of Cycling events are listed on the British Cycling website here, with further opportunities to be added over the coming weeks.
British Cycling CEO, Jon Dutton, added:
"While the 11 days of competition across Scotland will grab the headlines this summer, at British Cycling we're really keen to capitalise on all of that inspiration and enthusiasm and provide children and young people with fun and local opportunities to get on a bike.
"We're delighted to be working with Sport England to provide direct funding for clubs to engage their local communities this summer, enabling thousands of young people to experience the joy of cycling and follow in the wheel tracks of our Great Britain Cycling Team riders competing for rainbow jerseys."