British Cycling and HSBC UK have partnered with the National Trust to provide bicycles to those who visit several of the charity's beautiful places and spaces around England, Wales and Northern Ireland.
Perfect for families, friends and first-timers alike, visitors can borrow from a fleet of bikes from as little as £3 - while kids can hire balance bikes for free! From the likes of Osterley Park, one of London's largest parks, to the rolling grounds of Blickling Estate in Norfolk and Northumberland's Wallington, the National Trust are opening up their places for a new twist on a day out.
And with helmets, child seats and trailers available, it all gears up as a fun day out for the whole family.
Bike ownership and having somewhere you feel safe to ride are two persistent barriers to cycling. While for our young people there is a wider societal problem where almost a third of children aged two to 15 in England are overweight or obese and just 20% of kids aged five to ten are getting the recommended 60 minutes of activity they need each day.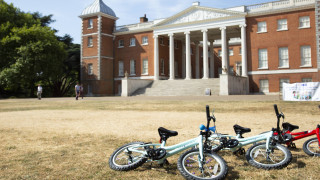 The partnership aims to make bikes available in enjoyable, traffic-free spaces, reminding families how fun and easy it is to spend a day out in the saddle. To find your nearest bike hire and for more details, visit the National Trust website. Available equipment, costs and opening times will vary between locations, but there will always be an adventure in store.
Introducing pedalling to playtime
Helen Skelton, actress, BBC TV presenter, and mother of two, launched the three-way campaign to get Britain's families cycling together this summer with a Ready Set Ride-along at Osterley Park – just one of the 14 National Trust sites that are offering balance bike loans for families enjoying a day out.
As well as being a great space to get pedalling, each of the National Trust locations is a brilliant environment for little learners to develop essential cycling skills. With high quality balance bikes available free of charge, kids can easily get started and learn the all-important balance and coordination that will help them to cycle as soon as they are ready.
For a helping hand, check out HSBC UK Ready Set Ride – our free learn to ride guide. Visit the website for over 20 fun games across three simple stages – 'Prepare 2 Ride', 'Balance' and 'Pedals' - giving parents all of the help and advice they will need to teach a child how to ride.
And with a free app, visitors can bring the games and activities with them to a National Trust place and really make the most of the free balance bikes.
Speaking of the initiative, British Cycling CEO Julie Harrington said: "We believe that everybody should have access to a bicycle and feel safe to enjoy the simple pleasure of going out for a ride. For this reason, we are incredibly pleased to be working in partnership with the National Trust to offer low-cost bikes at some of the nation's favourite wild areas."
Lucy Newbury, Active Outdoors Programme Manager for the National Trust said: "National Trust places provide fantastic opportunities for families to get outside and explore the woodlands, countryside, coast and more that we care for. The new partnership will enable more people to experience these places on two wheels, discovering everything nature has to offer whilst getting active.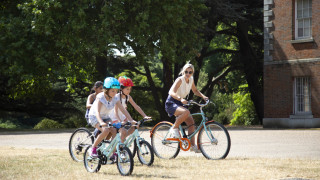 "We are delighted to be able to offer 100 free to borrow balance bikes across 14 properties and full bike hire schemes at three locations – Osterley Park (London), Wallington (Northumberland), and Blickling Estate (Norfolk) – so that the whole family can enjoy riding bikes together."
HSBC UK's Head of British Cycling partnership, Luke Harper, said: "If we really want to change behaviour and get Britain onto two wheels, we need to give people opportunities, encourage riding from an early age and ensure they have places to explore.
"We are delighted that our partnership with the National Trust will provide somewhere to ride for a wide variety of people: from those who are just learning through to families who can confidently get out together. We know that habits form more easily when you do things in a group; what better way to keep people active than through fun as a family in such lovely settings?"