Applications are now open for the 2018 National Youth Forum - is this an opportunity for you or someone you know?
The National Youth Forum is set to return with a comprehensive programme in place to support 12 of the country's most dedicated Young Leaders and Volunteers.
Who we are looking for
Thanks to the hard work of previous national youth reps, projects led by young people are moving forward and we are looking for hard working, enthusiastic young leaders who want to take their volunteering and leadership skills to the next level.
Our members are in control of meetings and all contribute greatly to the workshops they are provided with. We are therefore looking for young leaders who are not scared to 'go outside their comfort zone'. It is the job of British Cycling to support young leaders to do this and develop all the members' personal skills as well as knowledge of cycling and leadership.
Members will be asked to be part of small working groups who will lead various projects to support the Go-Ride programme within British Cycling. There are a number of working groups on offer to cater for everyone's specific interests. We are therefore looking for young leaders who are keen to drive ideas and projects forward and young leaders with a real passion for 'making things better' who can offer new input and innovation.
What to expect
We are proud of the national youth reps and to give you a brief flavour and a few tips we spoke to a former member of the National Youth Forum.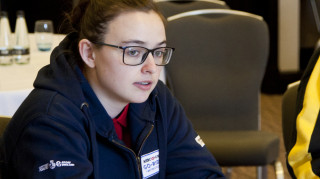 Name: Josie
Go-Ride Club: Knowsley BMX
Favourite discipline: BMX
Three things you most enjoy about the NYF: The opportunities you get away from forum, actually being an influence in British Cycling projects and decisions, meeting lots of different people from members to staff and those running workshops.
Three pieces of advice for new NYF members: Take every opportunity you can get, it can lead to other opportunities, don't be SHY, Listen - you can learn from everything.
Finally…sum, up the NYF group: Exciting, life skills, amazing.
Commitment
We currently host four meetings annually:
Manchester: 7-8 July 2018 - overnight stay (an afternoon of intro's and activities followed by our first 'formal' get together on day two).
Birmingham: 29 August 2018 - one day meeting.
London: 17 November 2018 - one day meeting.
Manchester: 26 January 2019 - one day meeting.
Conference (date and venue TBC – February 2019).
All meetings and reasonable travel/accommodation costs are fully covered as part of the National Youth Forum.
It is expected that all members are available for meetings as well as being part of ongoing projects.
Please note; whilst we will do our best to stick to the dates outlined they are subject to change.
Interested?
Any interested young leaders are invited to apply by completing and returning the application form found below.
Application deadline: Friday 20 April 2018 (5pm)
If you would like more information or for an informal chat about the National Youth Forum please don't hesitate to contact Joel Callister (Senior Development Officer, Clubs & Volunteers) on 0161 274 2126 or joelcallister@britishcycling.org.uk.