It's easy to let the shorter days become an excuse for putting a stop to sessions, but we're encouraging all Go-Ride Clubs to shine bright this winter by planning night races that will excite and electrify your members.
If you haven't held winter races before: you're in for a treat! The eerie lighting, biting cold and inevitable mud make for fantastic conditions to develop your riders, keeping them moving through what can be the off-season for many.
Plus it's simple to organise a race – and they can be great social events to get everyone together.
Glow for it!
Not sure where to start? There are just a few simple steps:
1. Choose the date and book the venue.
2. Register your Go-Ride Race with us to get your hands on glowing goodies to light up the event.
3. Use the Go-Ride Racing Let's glow! poster to advertise on your club's website and social media platforms.
4. Encourage riders and volunteers to wear their brightest clothes and light up their bikes (more on this below). Why not celebrate 'the most glowing rider'?
5. Make sure all volunteers are race ready and know their roles on the day.
6. Set up your course and let riders do a few laps before the racing starts
Time to 3, 2, 1... glow!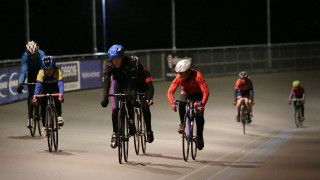 Don't be scared of the dark
Here are a few of our favourite ideas for making your Go-Ride Races shine:
Fun in fluoro: This is the perfect opportunity to dig out your hi-vis, neon leggings and glow in the dark face paint. Think 80's pop and 90's rave (but on a bike).
Bright is better: Ask racers to bring bike lights, fairy lights, head torches and glow in the dark spokey dokeys to make their bikes as bright as possible. Volunteers can bring torches and should wear their hi-vis officials bibs to add to the theme.
Make friends under the floodlights: If your club has a great facility with floodlights, why not invite other local clubs to an exciting evening of racing? It's a great way for riders to race against other youngsters and for volunteers to share ideas.
Glow big or go home
Promote your HSBC UK Go-Ride Racing events with this toolkit of marketing resources.
Print off and add the details of your event, before sticking up in a visible spot.
Download and add as an image to your website or social media, adding details of your event.