The first Go-Ride Conferences of 2016 took place over the weekend, with almost 200 delegates attending the annual events in Durham and Manchester.
Led by the development team at British Cycling, the conferences bring together Go-Ride volunteers from clubs across the country to share great work, important updates and individual accomplishments through the Go-Ride Awards.
Hosted by the Radisson Blu hotel in Durham and National Cycling Centre in Manchester, the first two events were opened by regional development staff and director of the coaching, education and development department, John Mills. Looking back at the accomplishments of the Go-Ride programme and sharing some really positive statistics, delegates were able to see first-hand the difference their work had made over the last year.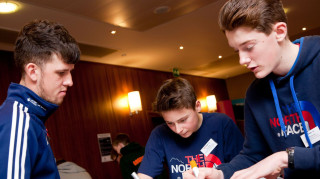 Taking place two months into what is set to be a big year for British Cycling and just a week before a home UCI Track Cycling World Championships, there was a palpable sense of excitement for what the Go-Ride programme will achieve in 2016. Development manager, Steph Allmark, explained:
"Events such as the Olympics and UCI Track Cycling World Championships have been mentioned a few times this weekend and with 80% of the Great Britain Cycling Team coming through Go-Ride Clubs, each and every volunteer attending the conferences should be proud to say that they have a direct link to the very highest levels of British cycling.
"With workshops covering coaching, club welfare, young volunteers and existing volunteers, we hope to arm clubs with an effective toolkit that they can use to develop their young riders and keep the sport sustainable."
There are four Go-Ride Conferences to come this year, with events in Reading (12 March), Bexleyheath (13 March), Taunton (19 March) and Coventry (20 March). If you are interested in attending and haven't already booked your free place, just visit the conference page. Booking closes a week in advance though, so we recommend registering soon to secure the opportunity.