Britain's most successful Olympian, Sir Chris Hoy, surprised pupils from Dane Bank Primary School in Tameside when they attended a British Cycling Go-Ride session this week.
The group of Year Five and Six pupils were taking part in the coaching and racing session at Tameside Closed Circuit, as part of British Cycling's Go-Ride programme. Sir Chris made his surprise entrance armed with a brand new fleet of HOY children's bikes to provide some inspiration on an otherwise wet and windy day.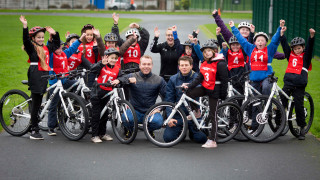 The Go-Ride programme delivers progressive coaching sessions in schools across the country, giving children the opportunity to access cycling as part of their curriculum. Evans Cycles have provided Go-Ride Coaches with a fleet of HOY bikes, ensuring barriers are removed by providing all young riders with proper equipment. Over the past year, more than 45,000 opportunities have been provided for young people to get involved with cycling at school.
Sir Chris Hoy said: "It's incredibly important that children have the opportunity to access sport at school. If a child takes part in regular physical activity from a young age then they are much more likely to be physically active throughout their adult life. Not only that, it also increases the capacity for learning, as kids have more energy and better levels of concentration."
"The Go-Ride sessions give young people a chance to really get to grips with cycling and it's amazing to see so many children benefitting from that experience in lots of different ways."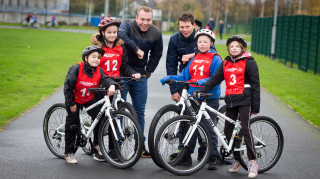 During the session, Sir Chris Hoy asked the pupils to help him shape the next range of HOY bikes, requesting feedback on the design and feel of the bikes they were riding.
Sir Chris added: "Our aim is to create bikes that inspire children to want to go out on their bike and keep riding for years and years. It was great to see so many children enjoying the bikes and you can learn a lot from these sessions. I'm always looking for ways to make the range even better and want to incorporate as much feedback as possible into the next models we develop."
British Cycling Go-Ride Coach, Simon Wilson, said: "The children were all so excited to have Sir Chris Hoy at their session, it was such a brilliant experience for them. The fact that they're also riding bikes that bear the name of one of the most phenomenal athletes Britain has ever seen is sure to keep them inspired for a very long time.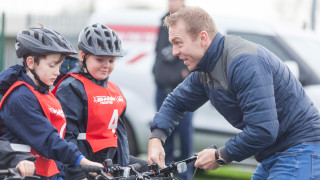 "We deliver series of coaching sessions in schools to give young people the chance to develop their cycling skills and a real love for the sport. There's also a network of 300 Go-Ride Clubs in communities across the country, so if the children enjoy the session at school, they can go along to their local club. Over 70% of riders on the Great Britain Cycling Team started out at Go-Ride Clubs, so there's real potential to go from playground to podium!"
Simon's role as a Go-Ride Coach is jointly funded by British Cycling's Go-Ride programme and Active Tameside, a charity that aims to help the local community live active and feel great. Based at the traffic-free Tameside Closed Circuit, Simon also travels to schools and community events to deliver thousands of opportunities for young people to get involved with cycling every year.
Together with support from the Bicycle Association and Evans Cycles, the Go-Ride programme aims to provide over two million opportunities for young people to get into cycling by 2020.