Whether it's a spin in the back garden, tearing around a local pump track or confidently riding further than ever before, cycling is an essential part of growing up.
Embracing this approach, the British Cycling Go-Ride programme - with over 350 clubs offering activity for young people, helps thousands of young people enjoy the freedom of cycling and develop lifelong skills and habits.
Local Go-Ride clubs are fantastic places to get out on a bike, whether it's part of a coached session, a group ride or accessing some amazing cycling facilities.
With over 90% of the Great Britain Cycling Team starting out in Go-Ride Clubs, they are a great place to start for aspiring champions.
The Go-Ride Programme
Clubs for Young People:  Go-Ride Clubs offer a fun, inclusive and safe environment for riders under the age of 18. At the heart of Go-Ride activity is the opportunity for riders to progress whilst enjoying their cycling.
Gives parents peace of mind:  All Go-Ride Club volunteers are suitably qualified, including DBS-checks, and all Go-Ride activity is suitably risk assessed.
Easy to get involved:  Just like any sports club, the emphasis is on regular, local and affordable activities to make it easy to keep coming back and create a sporting habit for life.
Creates champions:  Most of the Great Britain Cycling Team's biggest stars started out at a Go-Ride Club. Just like Laura and Jason Kenny!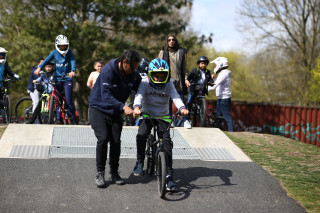 Additions for 2022
From January 2022, The Go-Ride Programme will now recognise a wider variety of cycling opportunities for young people. The natural development of activity for young people will evolve from a traffic free environment and we want to be as flexible as possible to support clubs to confidently offer a range of activity.
Go-Ride activity can now also include the following activities:
Group rides (for example; club runs or trail rides)
To help your club introduce and support this type of activity we have useful guide to help you meet our standards of safeguarding, structure, and risk assessment. The guide can be found here: - U18 Road Ride Guide - Case studies, practical guide and FAQ's
If coached sessions in a traffic free environment is what your club does, we absolutely encourage and continue to support this activity, the opportunity it provides young people is invaluable. We recognise that coaching sessions are integral to a young rider's development, including their bike handling skills and to gain confidence in a traffic free environment.
The additions to Go-Ride Activity is simply an option and it's important that clubs deliver what they are comfortable with.
The Club Development Team are on hand to support any clubs that have any questions or require any further guidance on their activities.