British Cycling has today joined HSBC UK and a host of other major businesses in supporting the /together campaign; celebrating the 72nd birthday of the NHS by encouraging us all to head out for a ride on Sunday 5 July.
After the challenges of recent months, the /together campaign is aiming to unite the country in saying thank you to the NHS doctors, nurses, cleaners and carers who have gone above and beyond to keep us safe. The campaign is also aiming to bridge divides and help build a kinder, closer and more connected country, ready to face whatever challenges lie ahead.
With small club rides now permitted and the popular HSBC UK Breeze women-only rides and HSBC UK Guided Rides set to return from Saturday 4 July, British Cycling is keen to support those who have either started or returned to cycling during the pandemic to continue riding and discover more of their local area by bike.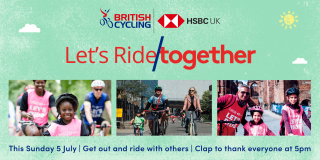 British Cycling has proudly supported the NHS throughout the pandemic, firstly through a £100,000 donation to the Wheels for Heroes Crowdfunder campaign, and then again through the offer of a free, three-month membership for all NHS staff – but we know that cycling benefits the nation's health more broadly too.
Our 2017 'Confidence to ride, confidence to invest' report found that:
• Increasing cycling amongst individuals in urban centres in England and Wales could result in £17 billion in savings to the NHS over 20 years.
• Moderate levels of cycling were associated with a 28% lower mortality risk in older adults.
• There is a 20% lower risk of reporting high perceived stress associated with cycle commuting.
• Eleven out of 12 studies reported numerically lower risk of cardiovascular disease and coronary heart disease with higher levels cycling of participation.
British Cycling's Cycling Delivery Director, Dani Every, said:
"We're proud to be supporting the /together campaign alongside HSBC UK and taking the opportunity to once again say thank you to our NHS and care staff on Sunday 5 July.
"The campaign's wider aim to foster a sense of community and connectedness is a vitally important one, and we know that our clubs, coaching activities and recreation programmes are all fantastic facilitators of that within their own communities. After a three-month period in which our activities have been suspended, I know that our Breeze and Guided Rides groups will be looking forward to reuniting over the coming weeks, and hopefully welcoming lots of new members along for the ride too."
HSBC UK's Head of British Cycling Partnership, Luke Harper, said:
"It's great to have British Cycling join us in supporting the /together campaign by encouraging more people to get out on their bikes. Over the past few months we've seen just how big of a role cycling plays in keeping communities connected, and with the return of the HSBC UK Breeze and Guided Rides programmes this weekend we hope that many more people will take up the opportunity to meet new people and discover their local area by bike safely within the new guidelines."
To find a local cycling club click here, and for upcoming HSBC UK Breeze rides and HSBC UK Guided Rides in your area click here. If you're looking for support and inspiration to get riding as a family take a look at our HSBC UK Let's Ride Local microsite here.