Children across the country are being urged to embrace their bikes by taking part in the biggest ever children's cycling weekender, to mark the start of the UCI Road World Championships in Yorkshire - the largest international sporting event on UK soil this year.
For the first time since 1982, the world's best riders will descend on towns across the region to compete for the coveted rainbow jersey. British Cycling wants to ensure that this once in a generation event helps to inspire a new wave of cyclists across the whole country, starting by getting as many children on bikes as possible, to mark the start of the championships.
As well as encouraging all families to simply get outside on bikes during the first weekend of racing (21-22 September), British Cycling's network of local Go-Ride clubs will be opening their doors to as many children as possible to give kids a taster of coaching and racing.
With 39 sessions currently planned across the country, the organisation hopes to encourage the next generation of Britain's young cyclists by enabling them to replicate their idols during the same weekend when the elite riders will begin competing for the iconic rainbow stripes on Yorkshire's roads.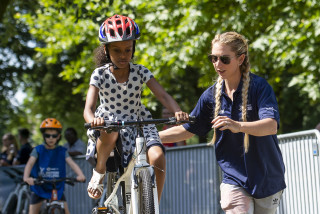 Julie Harrington, British Cycling Chief Executive, said:
"The building excitement of the UCI Road World Championships this month provides us with a unique opportunity to inspire children from across the whole of the UK to realise their potential and give cycling a go.
"Whether this is simply doing laps of the local park or taking advantage of one of the Go Ride racing opportunities across the country – we want to ensure that, in a year where the pinnacle event in the global cycling calendar returns to UK shores, every child has the opportunity to ride a bike and discover life on two wheels."
To find out more about all the fun cycling activities you and your family can get involved with this summer and to find your local Go Ride racing event, head to the Own the Ride website.