Since joining British Cycling last year, a question that I've often been asked is how we're working together with other cycling and active travel organisations.
It goes without saying that, in a changeable political climate, getting the interests of cyclists and pedestrians on to the government's agenda is more challenging than ever. While the Cycling and Walking Investment Strategy (CWIS) is a step in the right direction, if we are to make positive and meaningful change in our towns and cities the pace of change has to be quicker.
The support of our 140,000 members gives us a strong and authoritative voice, but if we are to truly turn Britain into a great cycling nation, we can't do it alone.
That's why – along with Cycling UK, Sustrans, Ramblers, Living Streets and the Bicycle Association – we have agreed to work together to agree a number of shared goals and a Vision for Tomorrow to help make cycling and walking the natural choice for short journeys.
Today I will be speaking at the Cycle City Active City conference in Manchester – in what is a landmark week for the city following Chris Boardman's Beelines announcement on Tuesday – and we will present our shared vision in Moving the Nation.
The document, which has been shaped by the respective CEOs of our organisations, details five clear goals:
Every town and city is served by a core network of segregated cycle routes and networks of walkable routes to and within centres.
Every community has access to green spaces and is connected by traffic-free cycling and walking networks for all.
Every rail and bus station is attractive for people travelling on foot or by bike, and has facilities that prioritise cycling and walking.
Every child is able to walk and cycle to school in safety and with confidence, gaining essential life skills.
Everybody has opportunities to take up walking and cycling, through programmes in schools, workplaces, and local communities.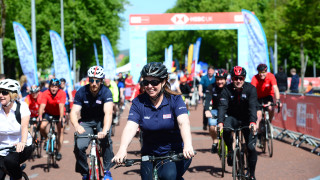 There's nothing radical here. These are the core foundations of some of the happiest, healthiest cities in the world; places like Amsterdam and Copenhagen where walking and cycling is simple, attractive and safe.
Only through achieving these goals will the government be able to deliver the CWIS in its entirety – to double cycling, increase walking, reduce the number of cycling casualties and get more kids walking to school.
Crucially, these are all things which we believe the minister can support, and we look forward to hearing more about the department's plans in the coming months.
The opportunity is there, and we must now work together and redouble our efforts to ensure that it is grasped.