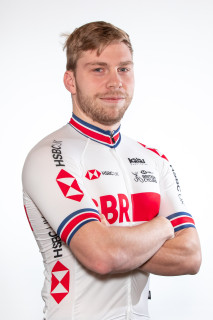 Track sprint
Double Olympic champion Hindes guided Great Britain to team sprint victory from the 'man one' position in London and Rio.
Born in Germany to a British father, Hindes started his sporting life as a rower before converting to track and representing the country of his birth. But a decision to follow his family to England and ride for the Great Britain Cycling Team paid dividends when he won team sprint gold at the 2012 London Olympics, aged only 19, and defended the title four years later.
As a specialist in the man one position in the three-rider team sprint event, by 2016 Hindes had established himself as, arguably, the best in the world at that explosive role as he proved in the 2016 UCI Track Cycling World Championships when his time of 17.030 for the opening 250-metre lap at the Lee Valley VeloPark in London was the fastest of the entire competition.
In 2021, Hindes was selected for his third Olympic Games as travelling reserve for the team sprint squad that was seeking its fourth consecutive gold medal and a fifth podium finish in the last six Olympic Games, dating back to Sydney 2000.
Career in numbers
2
Total Olympic Games medals
1
Total UCI Track Cycling World Championships medals
2
Total Commonwealth Games medals
Biography
Hindes was born in Krefeld, Germany, where his father was serving in the British army, and attended a specialist sports college in Kaiserslautern where he showed early promise when he followed his brother into rowing.
However, at the age of 15, he switched to cycling, starting in road racing before deciding he wanted to move onto the track in 2009. Within a year, he had represented Germany at the 2010 UCI Junior World Track Championships where he took bronze in the team sprint and placed fourth in the individual event.
Later that year, Hindes took the major decision to relocate to Britain due to the lack of facilities and training partners in his area of Germany, a choice made easier by the fact most of his family was, by then, living in England and he was quickly accepted onto the British Cycling Academy Programme.
The International Olympic Committee could have ordered Hindes to wait three years before changing his nationality but ruled that he could make the switch immediately due to his dual German and British nationality.
Having moved to Britain, Philip's progress under experienced coaches Jan van Eijden and Iain Dyer was rapid and, with the London Olympics approaching, well-timed.
In 2011, Hindes received his first taste of the UCI Track Cycling World Cup, finishing sixth in a team sprint with Dave Daniell and Peter Mitchell in Beijing, and by the start of 2012, he had forced himself into contention for an Olympic place, being selected for the 2012 UCI Track Cycling World Championships in Melbourne alongside Sir Chris Hoy and Jason Kenny.
That appearance ended in disappointment, when an error by Hindes saw the Great Britain team relegated from the bronze medal race after a technical infringement in qualifying but he had shown coaching staff enough of his potential to win selection for the Olympics ahead of rivals such as Matt Crampton and Ross Edgar.
World records and Olympic golds
The British trio of Hindes, Hoy and Kenny, were in imperious form throughout the three rounds of the team sprint competition in London. After breaking the Olympic record, with a time of 43.065 in qualification, they shattered the world record with a first round time of 42.747 and, incredibly, bettered it yet again in winning gold against a strong French team in the final, riding 42.600. Hindes had ridden a blistering 17.274 for his opening lap in the gold-medal ride.
Incredibly, the Olympic gold was Hindes's first silverware in a major finals at elite level although he did not have to wait long to add to his collection.
Three months after the Olympics, he won silver at the UCI Track Cycling World Cup Glasgow in a team comprising London team-mate Kenny and Ed Clancy, the endurance rider then experimenting with a switch to sprint events.
A memorable 2012 for Hindes, and many British athletes, was rounded off when he was appointed Member of the Order of the British Empire (MBE) in the 2013 New Year Honours list.
As the 2013-14 UCI Track World Cup season rolled around, Hindes rode with Kenny and Crampton, on his home track at the National Cycling Centre in Manchester, to win a bronze and, in December 2013 at altitude in Aguascalientes, Mexico, he rode with Kenny and Kian Emadi in a Great Britain team that broke the team sprint world record with a time of 42.339. That record was immediately broken by Germany, however, with Great Britain eventually claiming silver behind the new world record holders in the final ride.
The 2014 season saw a change of routine for the Great Britain Cycling Team riders as they competed for their home countries at the Glasgow Commonwealth Games and Hindes teamed up with Kenny and Emadi to take a silver medal for England, behind gold medallists New Zealand.
The next two seasons of UCI Track Cycling World Cups saw Hindes finally add to the gold he had won at the 2012 Olympic Games. At the opening round of the 2014-15 season in Guadalajara, he partnered Kenny and Callum Skinner in winning the team sprint while the same combination of riders was successful at the Hong Kong event in January 2016.
Those performances earned the trio of Hindes, Kenny and Skinner selection for the 2016 UCI Track Cycling World Championships in London although, despite Hindes' amazing opening lap, Great Britain could only finish sixth, missing out on fourth place and a medal ride by an agonising margin of 0.011.
However, the months that followed saw the British trio make huge strides and, by the time they reached Rio in August, they broke the Olympic record by qualifying fastest in 42.562.
Having seen that Olympic mark fall to New Zealand in the first round, Hindes and his team made amends in the final, beating the Kiwis to the gold medal and re-claiming their Olympic record in 42.440.
Hindes won his first post-Rio medal in the 2017-18 UCI Track Cycling World Cup round in Milton, Canada - winning silver in the team sprint alongside Jack Carlin and Callum Skinner.
He followed that up with his first-ever world championships medal at the 2018 UCI Track Cycling World Championships in Apeldoorn, taking silver as part of a five-man squad alongside Kenny, Carlin, Ryan Owens and Joe Truman.
The next month, Hindes was selected to represent Team England at the 2018 Commonwealth Games and alongside Truman and Owens, won silver in the team sprint in Australia - matching his result in Glasgow of four years earlier.
By the 2018-19 UCI Track Cycling World Cup season, Hindes was back in contention for the team sprint squad for Olympic selection and won three medals across the course of the series - a bronze in Milton and silver in Berlin, with Owens and Kenny, and silver in London with Owens and Truman.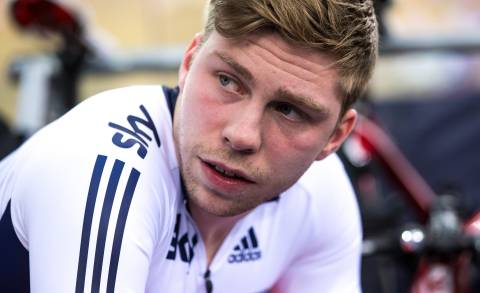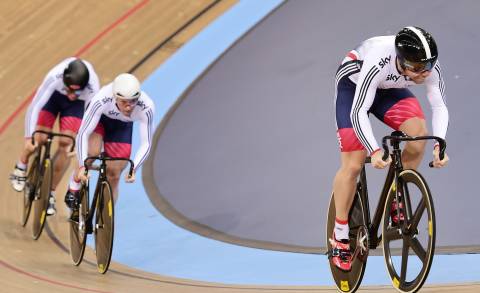 Palmarès
2018
Commonwealth Games, Gold Coast (Australia)
Team sprint
Silver
UCI Track Cycling World Championships, Apeldoorn (Netherlands)
Team sprint
Silver
UCI Track Cycling World Cup, Milton (Canada)
Team Sprint
Bronze
UCI Track Cycling World Cup, Berlin (Germany)
Team Sprint
Silver
UCI Track Cycling World Cup, London (UK)
Team Sprint
Silver
2017
UCI Track Cycling World Cup, Milton (Canada)
Team sprint
Silver
2016
UCI Track Cycling World Cup, Hong Kong
Team sprint
Gold
Olympic Games, Rio de Janeiro (Brazil)
Team sprint
Gold
2014
UCI Track Cycling World Cup, Guadalajara (Mexico)
Team sprint
Gold
Commonwealth Games, Glasgow (UK)
Team sprint
Silver
2013
UCI Track Cycling World Cup, Manchester (UK)
Team sprint
Bronze
UCI Track Cycling World Cup, Aguascalientes (Mexico)
Team sprint
Silver
2012
Olympic Games, London (UK)
Team sprint
Gold
UCI Track Cycling World Cup, Glasgow (UK)
Team sprint
Silver
2010
UCI Junior Track Cycling World Championships, Montichiari (Italy)
Team sprint (representing Germany)
Bronze
UEC Junior European Track Championships, St Petersburg (Russia)
Sprint
Bronze