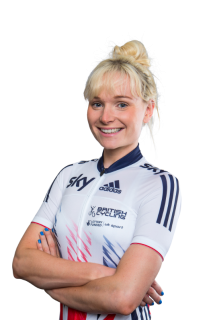 From
Kenilworth, Warwickshire
Team
Pearl Izumi Sports Tours International
Ciara Horne started her competitive sports career in swimming, at the age of seven, before injury led her to attempt triathlon and highlighted her potential in cycling, the discipline upon which she eventually concentrated in 2009.
After success on the track, medalling in the team pursuit in UCI Track Cycling World Cup events for the Welsh team Team USN, Horne was accepted onto the Olympic Podium Programme in 2014 and gold medals over the next two years in the team pursuit at UEC European Track Championships announced she would be in contention for her first Olympic Games at Rio 2016.
Career in numbers
1
Total UCI Track Cycling World Championships medals
3
Total UEC European Track Championships medals
Biography
Like a number of her Great Britain Cycling Team mates, Horne's first sporting interest was swimming, at which she competed on a national level, only for a shoulder injury to tempt her into triathlon, a sport in which she finished eighth at the Salford Junior World Cup.
However, by late 2009, the Warwickshire-born athlete had decided to concentrate on cycling and early success came two years later at the Irish National Track Championships, Horne having chosen to ride under her mother's Irish nationality at that stage.
Having decided, in 2012, to ride instead under her British racing licence, Horne was offered the opportunity to train with the Welsh Cycling Squad due to her father Barry having been born in the country.
The decision saw her take enormous, and quick, strides with a second place coming while representing the Welsh Cycling Track Team in the team pursuit at a UCI Track Cycling World Cup meeting in Cali, Colombia, later that year along with Amy Roberts and Elinor Barker.
That 2012-13 series also saw the same trio win bronze, riding for Team USN, at the Aguascalientes, Mexico, round of the UCI Track Cycling World Cup and, by 2014, with the women's team pursuit format having expanded from three to four riders, she impressed Great Britain Cycling Team coaches during a trial and was accepted onto the Senior Academy programme.
That proved to be Horne's breakout year and, after representing Wales at the Commonwealth Games in Glasgow despite suffering a broken rib injury just before the event, the end of the year brought a flurry of success for her in what was now her specialist event.
European champion for the first time
On an outdoor, 333-metre track concrete track on the French island of Guadeloupe, Horne was part of the Great Britain team that took gold in the UEC European Track Championships in October, riding the final with Barker, Laura Trott and Katie Archibald.
Horne teamed with Barker, Roberts and Trott to win gold in the 2014 UCI Track Cycling World Cup Guadalajara and, with Archibald replacing Roberts, the Great Britain team repeated the feat in the next round, on their home track at London Lee Valley VeloPark.
By 2015, it was obvious that Horne would be in strong contention for the team pursuit at the Rio Olympics, a fact underlined when she not only helped Trott, Archibald and Barker regain Great Britain's UEC European Track Championship title in Grenchen, Switzerland, but added a bronze medal in the individual pursuit behind gold medal winning team mate Archibald.
Horne, who somehow found time to study for a first class honours degree in physiotherapy at Birmingham University during her earlier years in the sport, was also developing her talents as a road rider and, riding for Pearl Izumi Sports Tours International, 2015 also saw her finish second overall at the Tour of the Reservoir behind fellow Great Britain rider Dani King.
At the start of 2016, team pursuit was her focus, however, and Horne opened the year with a silver medal at the 2016 UCI Track Cycling World Cup, Hong Kong, where she joined Barker, Joanna Rowsell Shand and Emily Nelson in a team that was beaten by less than a second by Canada in the gold medal final.
There was frustration, also, at the 2016 UCI Track Cycling World Championships in London in March when the Great Britain team of Ciara, Barker, Trott and Rowsell Shand rode a badly-paced qualifying ride that saw them finish fifth before the same line-up recovered to take bronze against New Zealand.
Horne's form earned her selection to the team pursuit squad for their successful campaign at the Rio Olympic Games where she was an unused reserve.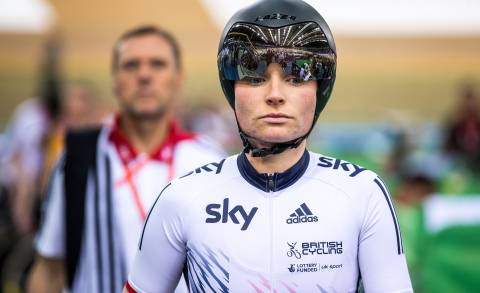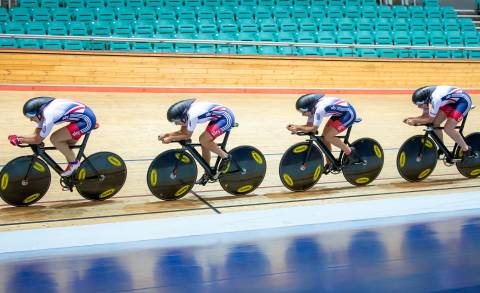 Palmarès
2016
UCI Track Cycling World Championships, London (UK)
Team pursuit
Bronze
UCI Track Cycling World Cup, Hong Kong
Team pursuit
Silver
2015
UEC European Track Championships, Grenchen (Switzerland)
team pursuit
Gold
UEC European Track Championships, Grenchen (Switzerland)
individual pursuit
Bronze
British Cycling National Track Championships, Manchester
team pursuit
Gold
UCI Track Cycling World Cup, Cali (Colombia)
team pursuit
Bronze
2014
UCI Track Cycling World Cup, London (UK)
team pursuit
Gold
UCI Track Cycling World Cup, Guadalajara (Mexico)
team pursuit
Gold
UEC European Track Championships, (Guadeloupe)
team pursuit
Gold