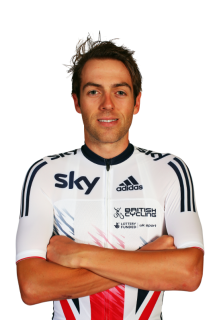 Time Trial and Road Race
A road rider with the UCI WorldTour Movistar Team, Alex Dowsett is a specialist in time trials but his early formative years in track racing were obvious in 2015 when he broke the prestigious world hour record by covering nearly 53 kilometres at the National Cycling Centre, Manchester.
A multiple National Time Trial Champion and gold medallist in the event at the 2014 Commonwealth Games, Dowsett has also earned widespread respect for his charitable work for sufferers of haemophilia, the blood disorder from which he himself suffers.
As well as setting a new hour record, 2015 also saw Dowsett record his first general classification victory on a stage race, the Bayern Rundfahrt in Germany.
Career in numbers
2
Total Commonwealth Games medals
Biography
Dowsett's early talent was obvious and led to him progressing through British Cycling ranks on the Junior and Senior Academy.
By then, the Essex rider's successes had already included titles at the National Junior Time Trial Championships and a gold medal in the team pursuit at the UEC European Junior Track Championships in 2006.
By 2010, Dowsett's potential was recognised by the the Trek-LiveStrong team who rewarded him with his first professional contract, a decision that looked well placed as the rising British star won the UEC European Under-23 Time Trial Championship and also took silver in the New Delhi Commonwealth Games time trial, behind Scotland's David Millar.
A year later, he had come to the attention of Team Sky, who signed him as a neo-pro, and Dowsett responded by helping team mate Simon Gerrans to overall victory in the Danmark Rundt stage race, finishing fifth overall in the process. A strong season rounded off with Dowsett's first title in the British National Time Trial Championships as well as a stage victory in the time trial at the Tour of Britain.
Moving on to Movistar
The 2012 road season promised much but, sadly, was hindered by a broken elbow following a crash and, while he retained his national time trial title, and came second in the national road race, Dowsett signed for Movistar in October with the aim of riding a Grand Tour in 2013.
That appearance came at the Giro d'Italia, in which Dowsett helped Movistar take second place in the team time trial before winning his first Grand Tour stage, on a 54.8-kilometre individual time trial from Gabicce Mare to Saltara, which he won by 10 clear seconds from second-placed Sir Bradley Wiggins.
A third successive British time trial championship victory followed in Glasgow, despite Dowsett crashing early in his ride, and his domination of domestic time trials continued early in the 2014 season when he set a new British 10-mile time trial record in Cambridgeshire, recording an astonishing 17:20.
There was also a gold in the time trial at the Glasgow Commonwealth Games while Dowsett threatened to end the 2014 campaign in style at the Tour of Britain. On stage six, from Bath to Hemel Hempstead, Dowsett was involved in a long breakaway, finishing second and taking the overall race lead before eventually finishing eighth.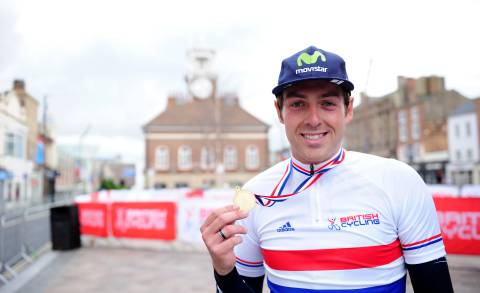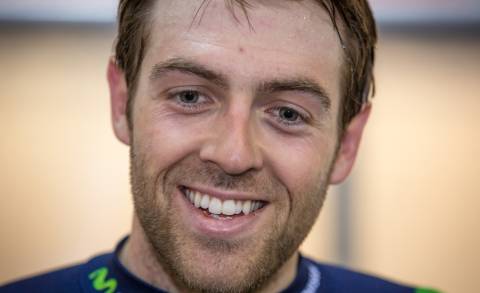 World hour record bid
Later in 2014, Movistar announced their British rider had signed a three-year contract extension and, before the year's end, Dowsett declared that he would try to break the UCI Hour Record in London in February 2015, an attempt he was forced to postpone when he broke his collar bone over the winter.
Instead, Dowsett took to the National Cycling Centre on May 2, where he attempted to surpass the 52.491 kilometres covered by Dennis in Switzerland three months earlier, a new "unified" world record established by the UCI. In a masterful display of pacing, Dowsett's success never looked in doubt as he beat the old mark by nearly half a kilometre, covering 52.937 kilometres in front of a delighted Manchester crowd.
The record would only last a month, before it was beaten by Great Britain Cycling Team mate Wiggins, but Dowsett managed to maintain his form throughout the remainder of the year.
Two weeks later, he won his first ever stage race, the Bayern Rundfahrt, where victory on the stage four individual time trial proved pivotal to his success, and a month later, Dowsett equalled the record held by Stuart Dangerfield when he won the British time trial championship for a fourth time.
A debut Tour de France followed for Dowsett in July, and on the stage nine, team time trial, Dowsett helped his team clinch third place but illness cut short his Tour during stage 12 to Plateau de Beille.
The year still ended on a high for Dowsett, again in the team trial format where he helped Movistar win bronze at the team time trial at the UCI Road World Championships in Richmond, USA.
The 2016 season followed a familiar schedule for the British rider, with one of his highlights coming when he broke the British 25-mile time trial record in Cambridgeshire by over a minute, with a time of 44:29.
In June, Dowsett won the British National Time Trial Championship in Stockton, the fifth victory in the event in six years for the Essex-based rider.
Away from the bike
The son of former British Touring Car Championship driver Phil, Alex inherited his father's love of speed and still retains a strong interest in racing on four, as well as two, wheels.
Dowsett suffers from haemophilia, a blood disorder that impedes the body's ability to control blood clotting, a reason that he gravitated towards swimming and cycling as a child, rather than contact sports like football and rugby.
His father took Dowsett to watch his first time trial race at the age of 13 and the interested youngster insisted on trying himself a week later, starting his love affair with the discipline.
Having begun his career with the Maldon and District Cycling Club in Chelmsford, Dowsett is now believed to be the only able-bodied elite sportsman or woman to suffer from haemophilia. That, in turn, has inspired the rider to form a foundation - Little Bleeders - that raises awareness, supports families of sufferers and encourages young people with blood disorders to try sports like cycling.
Palmarès
2010
Commonwealth Games, Delhi (India)
time-trial
Silver
Under-23 European Road Championships, Ankara (Turkey)
Time-trial
Gold