UCI Junior World Track Championships
Location: Moscow, Russia
Event: 17 August - 21 August 2011
---
British Cycling have three riders who will represent Great Britain at the UCI Junior World Track Championships taking place in Moscow from 17-21 August.
Recently crowned double European Champion John Paul will be joined by fellow junior sprinter Matthew Rotherham and Victoria Williamson who won three Silver medals at the UEC European Track Championships.
---
Day 5 - Sunday 21 August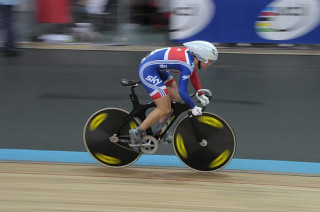 Above: Another medal for GB on the day five as Victoria Williamson wins silver in the 500m TT. (image courtesy of velostar.ru)

The final day of competition saw all three GB riders on track, with both John Paul and Matt Rotherham contesting the Men's Keirin, while Victoria Williamson was once again in action in the 500m Time Trial.
Both GB Men made it safely through the Keirin first round, with Matt Rotherham placing second in his heat, while newly crowned Junior World Sprint champ won his heat. It was a different story though in round two. Both GB riders were drawn in heat 1, which Rotherham won, earning a place in the final. However, John Paul missed out on a top three place, finishing fifth and therefore progressing to the minor final for 7th-12th places.
Come the finals and Rotherham rounded out his world's performance with a fifth place, the title going to Julien Palma of France, while John Paul placed 10th overall, completing a campaign which sees the young Scot returning home with a rainbow striped jersey for his efforts.
However the highlight of the final day was Victoria Williamson's silver medal in the 500m TT with a personal best of 35.687, only beaten by the storming world record ride of Russian Anastayisa Voynova, who clocked a stunning 34.768 to net the world title.
The final day also saw the Women's Individual Pursuit title going to German Mieke Kroger in a time of 2:27.113, who beat New Zealand's Georgia Williams to the title, with Aleksandra Chekina of RUS taking bronze, beating Italy's Beatrice Bartelloni.
Final GB Medal Tally

John Paul
Gold (Men's Sprint)
Victoria Williamson
Bronze (Women's Sprint)
Silver (Women's 500TT)
Selected Results
Men's Keirin - Full Results PDF
Final 1-6
1 PALMA Julien FRA
2 SHURSHIN Nikita RUS
3 VERDUGO Edgar Ismael MEX
4 EDELIN Benjamin FRA
5 ROTHERHAM Matthew GBR
REL 122 NIEDERLAG Max GER
Final 7-12
7 BARANOSKI Matthew USA
8 CALDENTEY CABEZAS Jose Miguel ESP
9 MCMILLAN Timothy AUS
10 PAUL John GBR
11 ANGELIDIS Stylianos GRE
12 KARDAS Lucjusz POL
Women's 500m TT - Full Results PDF

1 VOYNOVA Anastaysia RUS 34.768 WR
2 WILLIAMSON Victoria GBR 35.687
3 SHMELEVA Daria RUS 35.949
4 MCKENZIE Stephenie NZL 36.333
5 JANKUTE Gabriele LTU 36.355
---
Day 4 - Saturday 20 August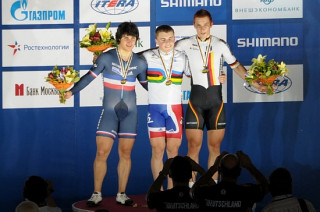 Above: John Paul is Junior Men's Sprint World Champion, beating Frenchman Julien Palma in the final. (image courtesy of velostar.ru)

Day four of competition saw the climax of the Junior Men's Sprint competition, with John Paul having previously battled through the early stages to face the formidable German Max Neiderlag, who broke the Junior 200m world record in qualifying.
John bucked the qualifying form in the first of the semi final match sprints. Neiderlag squared the match in the second sprint, forcing a decider, which Paul won to progress to the final, where Paul faced Frenchman Julien Palma. The diminutive Paul didn't mess about in the final, beating his opponent 2-0 to grab Sprint Gold. It was also a straight 2-0 in the bronze final, with the scintillating German Neiderlag beating Russian Nikita Shurshin for bronze.
Great Britain's Victoria Williamson was also in action in the Women's Keirin, progress through to the 1-6 final. Williamson finished second in her first round heat and won her second round heat to claim a place in the major final. However Russian powerhouse Anastasiya Voynova claimed Keirin Gold ahead of New Zealand's Stephanie Mackenzie and USA's Jennifer Valente. Williamson finished fifth.
Day four also saw the Men's Individual Pursuit, with Sanghoon Park of Korea grabbing the world title. Germany's Domenic Weinstein became World Champion in the Points while Taylah Jennings of Australia was superlative in the Women's Omnium, winning every round to claim the title.
Selected Results
Men's Sprint - Full Results PDF

Gold Final
Jon Paul GBR beat Julien Palma FRA 2-0
Bronze Final
Max Neiderlag GER beat Nikita Shurshin RUS 2-0
Women's Keirin - Full Results PDF

1-6 Final
1 VOYNOVA Anastasiya RUS
2 MCKENZIE Stephenie NZL
3 VALENTE Jennifer USA
4 SYLVESTER Adele AUS
5 WILLIAMSON Victoria GBR
6 BALABOLINA Tamara RUS
---
Day 3 - 19 August 2011

Victoria Williamson on the podium after claiming Bronze in the Women's Sprint (image courtesy of velostar.ru)
Women's Sprint - Bronze for Victoria Williamson after beating Tamara Balabolina (RUS). Williamson was beaten by European Champion Anastasiya Voynova in their semi-final.
Men's Sprint - In qualifying, GB's Jon Paul fifth, Matt Rotherham sixth. World record broken by Niederlag (GER) with a time of 9:899.
Matt Rotherham is very unfortunate in in next round and exits after a slow puncture. Jon Paul progresses through to the last 16.
John Paul then though to quarter finals where he meets Matt Baranoski (USA) and beats the American to progress through to Saturday's semi-final where he will face Max Niederlag (GER).
Selected Results
Women's Sprint - Finals - Full Results PDF
1. Anastasiya Voynova (RUS) 11:779, 11:425
2. Stephenie McKenzie (NZL)
3. Victoria Williamson (GBR) 12:052, 12:222
4. Tamara Balabolina (RUS)
Men's Sprint - Last 16 - Full Results PDF
1. Adrian Opaswicz (POL) 11,095
2. Matthew Rotherham (GBR)
Men's Sprint - Quarter-Final - Full Results PDF
1. John Paul (GBR) 10:752, Decider - 10:696
2. Matthew Baranoski (USA)
---
Day 2 - 18 August 2011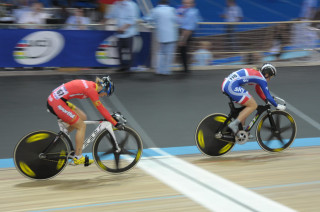 Victoria Williamson in action (right) (image courtesy of velostar.ru)
Women's Sprint - Victoria Williamson makes it through to the semi-finals to face Russian European Champion Anastasiya Voynova tomorrow.
Coach Jon Norfolk commented: "Victoria's qualification was impressive and a personal best by four-tenths of a second. Her rides were encouraging and although she meets the Voyonova who beat her into silver at the Euros, she'll hit it with everything."
Selected Results
Women's Sprint - Qualifying - Full Results PDF
1.Stephenie McKenzie (NZL) 11:104
2. Anastasiya Voynova (RUS) 11:132
3. Victoria Williamson (GBR) 11:236
---
Day 1 - 17 August 2011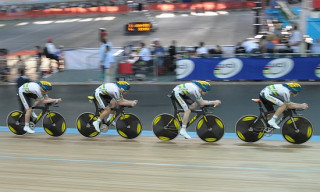 Above: Australia on their way to a world record time and gold medal in the Men's Team Pursuit. (image courtesy of velostar.ru)
The first day of the 2011 Junior World Track Championships saw medals decided in the Men's Team Pursuit, Men's Team Sprint and Women's Team Sprint. With no GB riders competing on day one, British eyes were on the emerging talent from elsewhere in the world. Standout performance on the day was from the young Australian Men's TP squad, who snatched gold with a world record time of 4:02.632. The quartet of Jack Cummings, Alexander Edmodson, Jackson Law and Alexander Morgan were fastest in qualifying and went on to seal the deal in the Gold final against the Russian Federation, with New Zealand taking bronze in the ride-off against Germany.
In the Men's Team Sprint it was the German trio of Ackermann, Konig, Niederlag who claimed gold in a time of 59.982, the only team to break the 60 second mark, with France and Russia taking silver and bronze respectively.
Women's Team Sprint honours were decided too with another strong showing from the Australian, Russian and New Zealand outfits. It was Russia who took gold, their duo of Shmeleva, Voynova claiming victory in a time of 44.873, over a second ahead of Australia, with New Zealand taking bronze.
Selected Results

Men's Team Pursuit Finals - Full Results PDF

1. Australia 4:02,632 WR
2. Russian Federation 4:07.342
3. New Zealand 4:05.359
4. Germany 4:08.437
Men's Team Sprint Finals - Full Results PDF

1. Germany 59.982
Ackermann, Konig, Niederlag
2. France 1:00.136
Edelin, Jacques, Palma
3. Russian Federation 1:00.829
Nenastin, Sharapov, Shurshin
4. Australia 1:00.933
McMillan, Parker, Sanders
Women's Team Sprint Finals - Full Results PDF

1. Russian Federation 44.873
Shmeleva, Voynova
2. Australia 46.062
Jennings, Sylvester
3. New Zealand 46.910
McKenzie, Paterson
4. Poland 47.933
Borkowska, Los
---