Road To 2012
Olympic mountain bike qualification reaches penultimate stage

Homepage: Road To 2012 | British Cycling's Performance Programs Explained
Team GB Mountain Bike Roster | Join Team GB
Mountain Biking: Olympic Qualification Explained | UCI National Rankings
---
British Cycling's Olympic Mountain Bike coach Phil Dixon is looking to end the qualification process for London 2012 on a high, as the team complete the first of the final two world cup rounds this weekend.

Annie Last races for Olympic qualification this weekend (Andy Waterman - Privateer)

A qualification process spanning two years is fast approaching its conclusion in La Bresse, France on May 20, but first the team travel to Nove Mesto Na Morave, Czech Republic.
Currently Britain will qualify a single men's and women's place for the Olympic mountain bike competition, to be held on August 12-13, but only results in both eliminator and cross country events over the next nine days will confirm starting positions for the nation.
British Cycling Olympic Academy athlete Annie Last will continue her campaign on Friday night in the eliminator – where she will attempt to emulate her victory from the previous stop of the World Cup. Last won the inaugural event in Houffalize and has good memories of Nove Mesto – the scene of her best cross country result to date. In August 2011, Last finished sixth, under a minute off the podium and one year on has already had a taste of leading the first round of the World Cup in South Africa.
British Cycling Olympic Podium Programme athlete Liam Killeen meanwhile, will hope he is fully recovered from an injury sustained in round one, which affected his performance in round two, with Dave Fletcher looking to score his first World Cup points of 2012.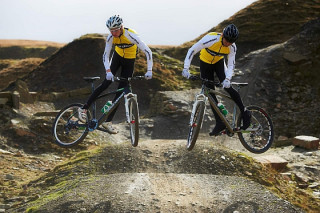 Grant Ferguson (left) and Kenta Gallagher (right) race together in the under-23 catergory
OLYMPIC DEVELOPMEMT
Olympic Academy athletes Kenta Gallagher and Grant Ferguson will both line up with a top thirty gridding, having scored points at the opening rounds. While Ferguson will target more points in his first year of under-23 competition, Gallagher's performance will be affected by his participation in the eliminator, where he will hope to reach the final, following an unfortunate exit in the semi-final in Houffalize.
A team of six junior riders will also travel to Nove Mesto, overseen by British Cycling Yorkshire and North East Talent Team Coach Simon Watts who is looking for each rider to learn from the experience rather than gain results.
For Alice Barnes, Iain Paton, and Mike Thompson, Houffalize was their first World Cup experience and in Nove Mesto Stuart Wilcox and Ed McParland join the lineup in their first World Cup appearance – something Watts believes is essential
"Domestic racing cannot be compared to international racing – especially at World Cup level and this is why it is so important for the riders selected to gain experience and establish some new goals in relation to top level racing. All of the juniors racing in Nove Mesto will line up in big fields – 41 women and 120 men, all of a high ability. They will have to fight for a finish in the top half of the results, but that's what they need to experience."
Both eliminator and elite cross country races are broadcast live from Friday 1250 BST.
Riders representing British Cycling at UCI Mountain Bike World Cup Round 3
Elite Men
Liam Killeen – British Cycling Olympic Podium Programme
Dave Fletcher – British Cycling Olympic Podium Programme
Elite Women
Annie Last – British Cycling Olympic Academy Programme
Lee Craigie
Under-23 Men
Kenta Gallagher – British Cycling Olympic Academy Programme
Grant Ferguson – British Cycling Olympic Academy Programme
Junior Men
Stuart Wilcox – British Cycling Olympic Development Programme
Iain Paton – British Cycling Olympic Development Programme
Mike Thompson – British Cycling Olympic Development Programme
Ed McParland