Road To 2012
Phil Dixon: "Eliminator World Cup key for Olympic qualification"

Published 27 April 2012

Words And Photography By Luke Webber
Homepage: Road To 2012 | British Cycling's Performance Programs Explained
Team GB Mountain Bike Roster | Join Team GB
Mountain Biking: Olympic Qualification Explained | UCI National Rankings
---
British Cycling's Olympic Mountain Bike Coach Phil Dixon has hailed Annie Last's first ever World Cup win in the new UCI Cross Country Eliminator World Cup as an essential factor in qualifying for the Olympic Games – and a trend that will continue.
Speaking from Houffalize, Dixon summarised the performance of the eleven-rider squad as a good progression, with the ultimate target of qualifying a single Olympic place for men and women – the latter being Last's primary target.
"Annie is in a unique situation as the only British woman who can score points for Olympic qualification week in, week out and because of that, she is working on the premise of qualifying her own nation place for the Games.
"Every race Annie competes in is part of a programme a major aim of which has to be for points and that's why she raced – and will go on racing – the Eliminator events."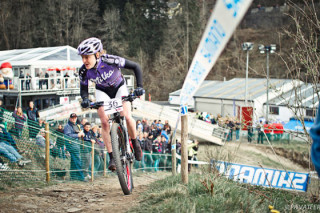 Annie Last will continue to race the Eliminator events (Image Andy Waterman/Privateer)
In Houffalize Annie scored 126 points in total after also finishing 20th in the cross country event, compared to 100 points in South Africa where she finished ninth in the cross country and there was no Eliminator. Dixon also highlighted further advantages to racing on Friday;
"Scoring early takes the pressure off to some degree for Annie; anything can happen in a World Cup, a mechanical, a puncture and we can't risk dropping points like that. Weekends with a chance to score are limited so we have to make the most of every opportunity we get."
That mantra was underlined on Sunday as Last had breathing difficulties in the cross country race and was forced to change plan.
In the race for men's qualification, Liam Killeen raced but was still suffering from the after effects of a heavy crash in South Africa.
Killeen's completion of the opening lap in 54th was something Dixon described as not great be went on to clarify he has confidence the two-time Olympian will recover from in due course and pointed to a series of good lap times later in the race.
"Liam is still recovering from his crash in South Africa - I don't want to put a time limit on Liam being fully fit again, because it is a slow process. He wants to race at the front but where he is starting from, he can't ride his own race. Other peoples mistakes dictate his finishing position to some degree, but his focus must be to recover 100% from what happened in South Africa first. In Houffalize he didn't have a great start but he strung four good laps and a strong last lap together and it is nice for him to break into the twenties."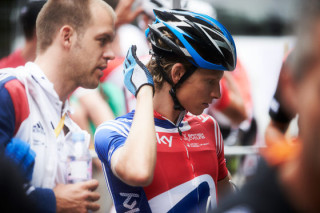 OLYMPIC DEVELOPMENT
British Cycling Olympic Academy athletes Grant Ferguson and Kenta Gallagher also impressed in Houffalize – despite both starting with high expectations.
Ferguson went into the under-23 cross country with the ambition of a top-25 finish – a result which would lead to a gridding at round three – but one which Dixon believed was a very hard task for the first year riders.
"Grant was starting 96th on the grid because he didn't score points in round one – that wasn't his fault – he was in the top ten but punctured with half a lap to go. I know he can ride well, but his goal of finishing top 25 to score points so he could be gridded in round 3 – I thought it was a bit stiff.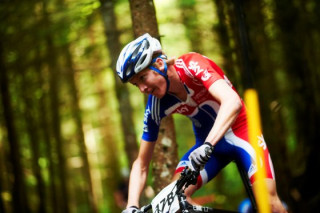 "But on the day he produced a fantastic ride and I couldn't ask for more. He had a tactic of running the first climb and it paid off, every lap he moved up positions to finish 20th and in round three he will start 29th on the grid which gives him a much better chance. Obviously, Grant is still a first year under-23, it's his first year on the Olympic Academy and his first year as a full time athlete, he made a few mistakes but he is learning and that's all you can ask him to do.
"Kenta's aim for the weekend was the Eliminator race – we know it compromises his result the next day in the cross country, but the benefits outweigh the costs. Kenta is a young rider who needs to gain race experience and the Eliminator is perfect for that, he is racing in close quarters, learning to start fast, learning an intense effort. Good bike racing can only make him stronger.
"The cross country race the next day had an equal focus, obviously he had sore legs and on the last lap he just dropped outside the points. Most importantly though, he finished the race exhausted – he's learning to get a maximal effort out now."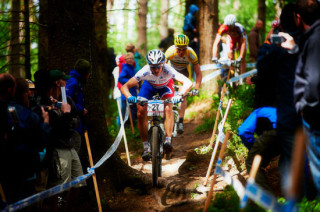 A further six junior riders experienced World Cup competition, overseen by Scottish Mountain Bike Development coach Paul Newnham and for all the junior men it was their first taste of World Cup racing with an aim of learning from the experience and moving on as bike riders.
"With 140 starters it was in at the deep end but I was very impressed of the way they approached the race and the effort all of the riders put in. Alex Welburn was on for a top 25 position before a mechanical dropped him back to the mid 50s but he didn't panic and rode back to 38th and that is just the sort of resolve we are looking for from young developing bike riders. The others all moved up from their grid positions with Iain Paton moving up from 120 to 68th. These kind of results show they are on the right track and most importantly they will have learned from this experience and will be able to take it forward into their racing in the future."
This weekend Annie Last and Olympic Podium Programme athlete Dave Fletcher compete in Belgium to secure further UCI points, before the entire squad race again at round three of the World Cup in the Czech Republic.