Road To 2012
Phil Dixon: "Hadleigh Farm is everything required of a modern mountain bike course"

Published 8 May 2012

Words And Photography By Luke Webber
Homepage: Road To 2012 | British Cycling's Performance Programs Explained
Team GB Mountain Bike Roster | Join Team GB
Mountain Biking: Olympic Qualification Explained | UCI National Rankings
---
With Olympic qualification in its final stages, Phil Dixon, British Cycling's Olympic Mountain Bike Coach has approved the 2012 Olympic mountain bike course at Hadleigh Farm.

As the final changes were revealed Dixon highlighted an additional climb as the biggest amendment to the 4.7km course which climbs 172 metres per lap, before describing the attributes of the venue in detail.
"The extra climb and new technical section, only cements the fact Hadleigh presents one of the most physical and challenging courses on the calendar.
"The course presents man made features, a natural section around the back, a long climb and a medium switchback climb, some drop-offs and rock features. It's got technical climbs, jumps, A, B and C lines, a nice start loop. I think it's got everything in there required for a modern mountain bike course. As a track it is very man made but I think the organisers have done a great job of building trails and making it into a mountain bike course."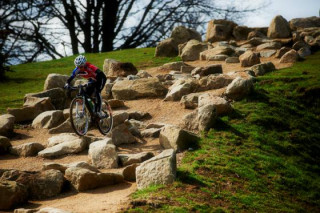 Dixon continued to pay particular attention to the technical demands of the race – certain they will make a difference on the day.
"We need to make sure we touch the technical skill a lot in training and account for the challenging features in this course. You need to make sure your skills are as sharp as they can be for this race. You have to focus all the way round because you can't afford to make a mistake on a lot of these features. And then you have to be physically strong."
Dixon expects to qualify one place for the men and women – a process that concludes on May 23 and named Annie Last and Liam Killeen as the favourites to represent Britain at the Games.
"The standout two are Annie and Liam, both are progressing well. Annie has very good technical skill and is learning the front of the bike race now. Liam has a lot of experience and the course suits him being a strong man. Right now though we will continue to focus on Olympic qualification because nothing is certain – but we are looking good at the minute."