Road To 2012
Annie Last On Her Career Best Season
Homepage: Road To 2012 | British Cycling's Performance Programs Explained
Team GB Mountain Bike Roster | Join Team GB
Mountain Biking: Olympic Qualification Explained | UCI National Rankings
---
British cross country champion Annie Last has had her best season to date. At just 20 years old, silver medals at the under-23 World and European Championships and two top ten World Cup finishes make her as the best British women's cross country rider in a decade. And while goals were set at the start of the year, for Last, nothing beats the satisfaction of achieving them.
"The last couple of months have got better and better, I have felt really strong and it gave me some confidence going into each race. You always set goals with the aim of achieving them, but when you do it shows that you're doing it right, it gives you the reassurance. When everything goes well it's good, it makes life easier. Obviously there are always little things that happen, but this year I have had plenty of good luck and the team has worked really well.
"I've been away from home for a long time but with the racing and the results I've been enjoying it. I finished the season on a high which is a great way to do it, but now of course I can look forward to going home and spending some time relaxing."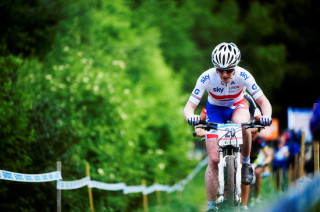 One of Last's final races was the British Cross Country Series - and the British Champion is explicit about enjoying racing on home turf.
"It's always nice to race in Britain, to get the chance to catch up with people, to see people who are happy for you."
That happiness comes from absence and a growing fan-base in Britain, whose appetite is growing to see the first British woman race an Olympic Games since Caroline Alexander in Sydney 2000, but Last contains her excitement on the subject.
"First we have to qualify a place, so that's a major part in the plan. There's no point of being in shape for the Olympic Games if you don't have a starting place. When I've had a break we will sit down and look at a plan for the remainder of the events before the Games. The fact that it's a home Games, that's once in a lifetime. It would be nice if it goes to plan and great for my family to come and share in that."
And Last's caution is well placed - at the World Championships her bid for a medal almost ended in the first corner, as riders moved jostled for position.
"I knew in that moment I had to look after myself" Last said intently, remembering the moment her race could have been over.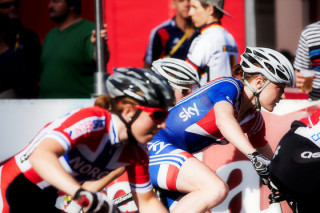 "I wanted a good start because I knew there were a couple of turns where it would have been easier to be at the front. Off the line I was ok, but going into the first corner I was squeezed out. I could have pushed the others out of the way, but I knew there had been crashes at that point in previous races so there was no point taking the risk. I wasn't nervous, but made a mental note to look after myself in that situation. The wheels came round me, only then I could breathe a sigh of relief.
"As it lined out I could move up again, onto Julie's wheel in second place. I tried to go round Julie but couldn't quite make it, I was still aware if I went too far into the red I would have struggled on the downhill and beyond, I thought I was better off keeping to my own race."
As the race progressed Last lost forty seconds to Bresset, but a mistake by the Frenchwoman midway through the race cut that gap in half; an event Last didn't admitted entirely register in race.
"I wasn't really aware that Julie made the error, not exactly.
"The World Championships are always the big race of the season, but when it comes down to it you can't race any harder, it's just another race. I'm really happy with the result. I tried my hardest on the first lap, I tried to go with Julie and give her a bit of a race, but she got a gap. I carried on working hard, I tried to get back to stop the gap getting to big. I gave it everything and I hope everyone is happy with the result, it's really good to get medal for the team, it's meaningful for the team and hopefully it will drive us on to achieve more performances."