|
---
The third day of the UCI Junior Track Cycling World Championships saw five GB riders in action at the Sir Chris Hoy Velodrome in Glasgow, with Danni Khan competing in the sprint, Amy Hill and Hayley Jones in the individual pursuit, Jake Ragan in the points race and Ollie Wood in the omnium.
Hot on the heels of her rainbow jersey win in the 500m TT yesterday, Danni Khan stepped up to the startline of the sprint qualification and posted the fastest time, covering the 200m TT in 11.532 seconds. Her result in qualifying meant she had a bye and progressed into the 1/8s where she saw off her opponent Catherine Wernimont from Belgium with ease. Kahn also sailed through her quarter final ride against the German Doreen Heinze, setting up a semi-final against Melissandre Pain from France, which will take place tomorrow (Saturday).
Fellow world champions Amy Hill and Hayley Jones unfortunately didn't fare so well in the individual pursuit after their epic battle for gold the night before. Clearly fatigued, Hill finished the 2km qualification ride in a time of 2:30.488 to finish sixth overall, while team mate Hayley Jones finished in 15th position in a time of 2:33.650, meaning neither made it through to the finals.
Although this wasn't what Matt Winston was expecting, he was able to see the positives of the situation:
"We thought we'd go a little bit quicker than that to be honest, with at least one of the girls getting a second ride. I think a combination of riding the team pursuit the night before along with their first time in doping control and not getting back to the hotel for food until gone midnight played a factor, and that's actually really good learning for them, and going back to the reason why we come to these events it's all about learning for future major championships. So although the result wasn't great, it was a good day of learning."
Qualifying fifth in his heat for the men's points race, Jake Ragan comfortably secured himself a ride in the evening's finals, where he started off well, collecting five points across three sprints and making an early break with four other riders but it soon all came back together with 83 laps to go.
Jake hung on to tied second place until just over halfway through the race when seven riders gained a lap. After that, Jake tried hard but wasn't able to get away and with five laps to go the gold medal looked, and indeed was, certain for Frenchman Benjamin Thomas. Jake fought all the way to the end, finishing in tied 12th position. Jake explains:
"I felt pretty good going into the finals, I had good legs I was sprinting well on the rollers and I felt good in the first few laps of the race. I went to try and roll some sprints to get some points on the board, but I think I did too much rolling for small points and after that I swung up and the race rolled away and once that break got away that was it. I tried to go away a couple of times towards the end, but they were all in vain."
Matt Winston agreed with Jake's analysis:
"He got stuck in and tried really hard, we'll have a look at the video and see what we can improve on technically – he maybe gave too much early on and struggled for that in the back part so we can look at what he can do definitely to remain competitive in the second half of the race."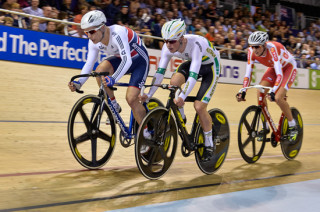 Ollie Wood starting off his Omnium campaign with a 13.878 second flying lap which placed him in eighth position. He followed that up with a tenth place in the 15km Points race, meaning he went into the evening session placed tenth overall with four events remaining.
Wood played the elimination race safe for the first few laps, keep himself up at the front and out of trouble which paid dividends when he avoided a big crash in the back part of the field. He was eliminated leaving eight riders left when he got trapped on the inside with no room to manoeuvre.
At the end of the first day, Wood lies in 10th place, but Matt Winston believes his strongest events are yet to come:
"It's the first time that Ollie has raced the Omnium at a major competition and he's had a tough day. He's consistently around the eighth, ninth or thenth position – we hoped he'd be a bit higher up but that's testament to the quality of the field. He's still competitive in there, but he's got quite a bit still to learn. The scratch and kilo are his strongest events, so he's going to try and get through the pursuit the best he can tomorrow (Saturday) and then see what we can do in the scratch and kilo."