|
---
The second day of the UCI Juniors Track World Championships in Glasgow saw two world champion titles for the Great Britain Cycling Team in what proved to be a busy day with a mixture of fortune.
The men's individual pursuit qualifiers was the first event on the schedule and the youngest man on the squad, Matt Gibson, posted a personal best time of 3:22.386 in heat 3 and faced a long wait to find out whether this time would see him through to the evening's finals session. Matt ultimately finished fourth to face the Russian rider Pavel Chursin in the ride-off for the bronze medal. Tao Geoghegan Hart posted a time of 3:30.225 which saw him qualify in 24th position.
A clearly disappointed Tao showed his class and maturity by fronting up to the media immediately after the ride and congratulated his team mate Matt on his result. Callum Scotson and Zachary May booked themselves into an all-Australian final in the evening session.
Next up to qualify were the junior women's team pursuiters, who were running to the new four women/4km format. The Great Britain team, comprising of Amy Hill, Emily Kay, Hayley Jones and Emily Nelson, rode in heat 10 of 11 and they posted a blistering time of 4:38.708. With Australia facing a mishap in heat 11, the girls set the fastest time and faced Russia in the final to compete for the gold medal.
With no representation in the men's keirin, Germain Burton was the remaining British rider left to qualify for his scratch event later that evening. Unfortunately, with a couple of laps left to race there was a crash which took down Germain meaning he was unable to finish the qualifying ride. Germain suffered some nasty looking track burn but thankfully, nothing too serious.
Danni Khan set the pace for the evening session, laying down a 500m time trial time of 35.456 - a PB by 6/10ths - in the fifth heat. Another agonising wait ensued for the Great Britain Cycling Team as the competition unfolded but nobody was able to knock Danni off the gold medal spot, giving Great Britain their first world champion of the event.
The current Junior European Champion Melissandre Pain won the silver medal, clocking a time of 35.926 and Australia's Tian Beckett completed the podium.
17 year old Danni from Solihull cites Becky James as her inspiration for her new Junior World title: "I don't think it will sink in for a while, I can't believe it, when you watch people like Becky James take two world titles just a few months ago – it was just so inspirational and I never thought it would happen to me. I'm so happy."
Danni has spent a lot of time recently training and preparing in Manchester before arriving in Glasgow for the world championships on Saturday and has tried to keep herself occupied in the build up:
"You get thoughts popping into your head. I've thought about the rainbow jersey – it's hard not to in such a great event like this but I've tried to switch off and I've been hanging around with the other girls (GB junior endurance team), painting our nails and doing our hair, just stuff to help us switch off really and then when I get to the velodrome I switch on again."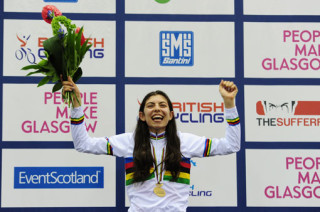 Danni's family were in the crowd tonight, and she paid tribute to them, saying: "It's brilliant to have them here and I can't thank my dad enough for all he's done in the build up to this event so it's just nice for him to be here and see me win!"
Matt Gibson put in a great performance against Russia's Pavel Chursin in the junior men's individual pursuit but was unable to beat his rival, meaning he finished in fourth position overall – but still a worthy result for the first year junior.
The final event of the evening – the junior women's team pursuit – saw Australia take the bronze medal. Amy Hill, Emily Kay, Hayley Jones and Emily Nelson took this in their stride as they lined up to face Russia in the race for the Gold medal.
The race started off as a difficult one to call, with Russia slightly ahead, then GB, then Russia until eventually the British girls started to get the better of the Russian team and went on not only to win the gold medal, finishing in a time of 4:35.085.
An emotional podium ceremony followed before the girls were mobbed for their autographs by children in track centre.
Once the crowds of children had dispersed, Emily Kay reflected on their ride: "It's just amazing. In our ride this evening, we had to take the emotion out of it, focus on the process and do what we needed to do. I think you can tell from the way we looked on the podium that we're all feeling on top of the world at the moment!"
Qualifying fastest and then coming back to do it all over again was no mean feat by the girls as Hayley Jones explains: "We definitely felt a bit fatigued from this afternoon's qualifying ride. I gave everything I got there, especially in my last turn, and I was saying to myself 'leave it all on the track, leave it all on the track."