Road To 2016
Matt Winston: "Olympic Development Programme headed in right direction"
---
Matt Winston, British Cycling's Olympic Development Programme endurance coach has declared the squad as headed in the right direction following their latest track competition.
Seven ODP athletes travelled to the Interland meeting in the Netherlands, comprising five first year juniors, four of which were experiencing their first international travel with the squad.
On both days the squad impressed despite a lack of experience and new lineups in the team pursuit – Winston noting several "very encouraging performances."
"I was pleased with the performance of the team overall" Winston summarised.
"The highlights for me were the team pursuit lineups, the girls are a brand new team this year after Elinor Barker, Lucy Garner and Amy Roberts all stepped up to the senior ranks.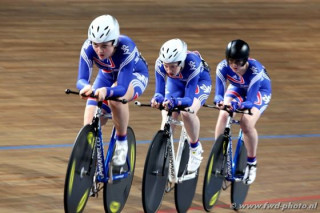 "The boys were only a second off the time the second year juniors recorded in Gent and to miss out by half a second to the European champions is a very good performance for the team.
"Also, Matt Gibson's win in the individual pursuit was excellent. It was the first time he had ever ridden a 3km pursuit and he committed really well to it and won it by a second."
Winston's praise extended beyond the track however, as he noted a pleasing team atmosphere, which extended to the experienced athletes helping the newcomers to adjust to the surroundings.
Having started the block of international competition interested to see how the Development athletes would perform against those from Europe and with further individual wins from Tao Geoghegan Hart, Gabriel Cullaigh and Gibson in the derny races and Emily Kay in the points there was evidence of success.
"This trip has shown steady progress, with the opportunity to build on what we have" Winston evaluated.
"We head towards the February half term camp with lots of good stuff to take from the Gent and Apeldoorn races and plenty to work on. It's all heading in the right direction."