Road To 2016
Matt Winston targets 2013 junior track world championships as new Olympic Development Programme athletes are inducted

---
Following inductions for the 2012/13 Olympic Performance Programmes, Matt Winston, British Cycling's endurance Olympic Development Programme (ODP) coach has set his primary target for the season – the junior track world championships.
Taking place at the Sir Chris Hoy Velodrome in August, Winston focused the minds of the latest ODP recruits on the task by airing the London Olympic team pursuit final at the opening of their first training camp.
Immediately the atmosphere in the room was transformed in what Winston described as a powerful experience – exactly what he was hoping for.
"The room fell completely silent." Winston recalled of the moment the beeps counted down to the start of the gold medal final between Great Britain and Australia.
"I felt goose bumps sitting there and I think for a junior bike rider that wants to progress, it was really quite powerful. The following workshop was really productive in terms of the technique of a team pursuit. I got some data from the English Institute of Sport that I could use to demonstrate where we wanted to move forward. The reception from the athletes was really good and because of the chat we'd had the difference on the track was massive."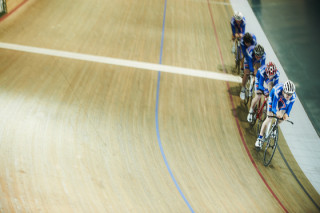 That reception gains significance because Glasgow 2013 will be the first time Great Britain have fielded a junior men's team pursuit squad at world championship level since 2010, when Sam Harrison, Owain Doull, Dan Mclay and Simon Yates finished second to Australia. But Winston's priority in 2013 is not the position, but the time.
"We may finish fourth, or eighth but if we're close to our target time and achieve that by riding with smooth, good technique, then we'll be really happy with our performance."
That time was shared with each of the athletes on the selection camp where Winston had to make some tough decisions on those selected to be inducted to the ODP.
"As I mentioned in an earlier interview, we had a lot of high quality applications which were really hard to narrow down. I said there were some good riders who would potentially not get on and that was the case.
"We had a very high quality of athletes born in 1995 – second year juniors and despite taking seven of them on I can think of six further second year juniors who in other years, could have been inducted. So the fight for places was pretty difficult.
"I could have taken the decision this year to take on only second year athletes, but when 2013 comes around I would have had no athletes which would have gone through the Olympic Development Programme process."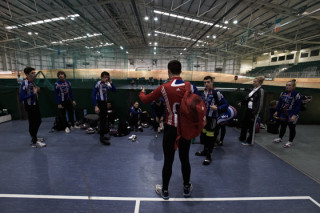 That process includes an increasing number of lifestyle workshops, previously reserved for Olympic Academy athletes, all of which underpin the long term aim of the ODP of giving athletes all the tools they need to progress to the next step on the pathway.
Winston's view is that the education process cannot start soon enough, with some athletes already adopting elements of the advice.
"They're not all going to take everything away. The stuff we've done is what we do on every camp and it will come back. If it's clear enough and the message is strong enough then they will take it away."
That message was delivered to athletes who join a Programme that won two junior world championship titles on the road in 2012 and ambition to move athletes on to the next level of performance even faster – with every individual aware of the long term plan.
"There's no secret that the junior world championships will be a target for us as a Programme. We started looking at it in the selection camp and I shared with all the athletes our goals.
"Some of the work we've been doing this week is driven towards that with a focus on technique. You can go quick without it, but that's when you can see accidents happening ,so it's very much getting those foundations in place so we can keep pushing on to bigger gears and faster speeds once the technique is in place."
Immediately though, athletes will be working on gaining a base level of fitness at home, utilising the lessons learned at the induction. The first results will be seen at camp two in December.