Road To 2016
Matt Winston proud of Olympic Development Programme's achievements
---
Matt Winston, British Cycling's Olympic Development Programme Endurance Coach, has told of his pride in a squad which has not only delivered three world titles on the road, but displayed selfless teamwork usually associated with full time professionals during their two years of coaching.
Ultimately tasked with delivering athletes to British Cycling's Olympic Academy Programme, which nurtured talents including three-time Olympic gold medallist Jason Kenny and 2011 road world champion Mark Cavendish, Winston was left delighted that the brief had been met with near perfect execution at the biggest annual event for the team.
As Lucy Garner, Elinor Barker and Jonathan Dibben competed in their final races for the programme, a work ethic bought every individual together as they worked to deliver their best performance as a team – something Winston said had not happened for two years.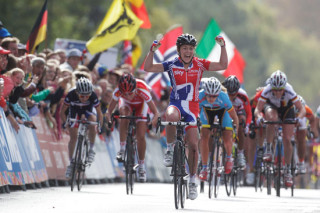 "Both the boys and girls delivered teamwork to be proud of," Winston enthused, when asked to describe the week.
"In the men's road race we were in every move, it was presence at the front of the field. We didn't get a medal, but we walked away doing everything we needed to do. We marshalled the race, delivered Jon (Dibben) to the line in the best leadout of the year and only missed out on a medal in a photo finish.
"There's not been an ODP performance like that for the past couple of years. It was a massive move on for them.
"The teamwork produced by the girls was also fantastic. Emily Kay finished a couple of minutes down, but for the first couple of laps she was taking Lucy from the middle of the peloton to the very front for each climb of the Cauberg."
The story of a group of junior athletes subscribing to self sacrifice – despite knowing results as an individual turns heads – is only accepted because of Winston's explicit focus on performance based on a race objective.
"This only works because I don't pressurise the result," Winston explained. "It's about the process and the athletes know if they do that right then we'll be delighted. You go to the world championships and it's very easy to say you want a result for yourself. To get four other girls to put their result to one side and fully dedicate themselves to one rider is a massive thing at that age. I was really proud of them for doing that.
"The spirit between the girls after the race was fantastic, they all waited for Lucy to come out of dope control, they all wanted to travel back to the hotel together, they were all really happy. They were happier than if they'd won the bike race."
And Winston believes a key part of junior athletes adopting such a professional attitude is because at the world championships they are accommodated alongside both Olympic Academy and Podium Programme athletes – an environment which helps illustrate how a world or Tour de France champion behaves.
That effect was seen in action at the start of competition as Elinor Barker won the time trial in a performance described as three years of development coming to fruition and a process to match.
"She prepared for it like you'd see a pro prepare," Winston summarised.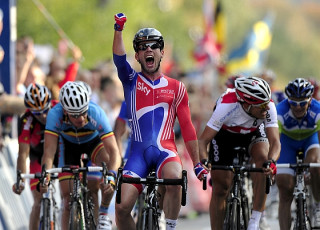 "They see the successes of the likes of Mark Cavendish and Brad Wiggins and they are part of that GB team. It's not only that you're wearing the GB jersey, it's that you're sat a table away from the winner of the Tour de France and the World Champion. That's a massive thing for a cyclist of any age, let alone a group of 18 year olds.
"For that week they get to see how those guys operate and that really enforces the message that we're giving. They see the pros doing everything right and it inspires them, it motivates them, it pushes them on and makes them excited to be part of the team.
"Before every world championships there is a talk given by the outgoing world champion to all the junior athletes – this year Mark spoke there and for British riders sat in that room, talking about the success they've had, it can only be motivation. They all want to aspire to that level and that's why they're there.
"Elinor applied that, left no stone unturned, went over the course several times on the bike and in the car. We knew it, every single corner, we could visualise the whole course. I think she realised her preparation was on another level, she was focussed before the start, got in there and ripped it up. She was technically really good as well, which is something she's worked on. After the race she had given everything and was being sick. I've never seen her push that hard before."
With a selection camp for the next iteration of the Olympic Development Programme due in mid-October, Winston hopes that the outgoing junior athletes will not only be future Olympic champions, but also inspire the next generation of British talents which must replace the outgoing world championship winning class of 2012.