Road To 2012
Phil Dixon: "Olympic qualification success does not mean we will stop racing"

Published 21 May 2012

Words And Photography By Luke Webber
Homepage: Road To 2012 | British Cycling's Performance Programs Explained
Team GB Mountain Bike Roster | Join Team GB
Mountain Biking: Olympic Qualification Explained | UCI National Rankings
---
With the period for Olympic mountain bike qualification now over and Britain all but assured a nation place for one male and one female competitor, British Cycling's Olympic Mountain Bike coach Phil Dixon has already turned his attention to Games-time preparations and insists the team will not stop racing to better prepare.
While some countries will elect to miss rounds five and six of the mountain bike world cup next month due to the time difference and travel to Canada and America, Dixon believes such an approach would harm the chances of the team, explaining there were ways of managing the extensive travel and that missing races at a critical time was not an option.
"You need to race the best in the world to be the best in the world. We are a team of bike racers and that means going to races and getting stuck in, not waiting for the races to come to us. Before the Olympics you need the athletes to be around the best competition, seeing how they ride, how they operate and being amongst that."
WORLD CUP REVIEW
Reviewing the performance of British Cycling's Olympic Mountain Bike Programme athletes at the final event of qualification for London 2012 as one which leaves the team confident before their mid-season break, Dixon described Annie Last's eighth-place finish as encouraging. This came after Last rode the opening stages with the lead group, but fell foul to the dynamics of the race itself.

"By lap two Annie settled into a good pace, but she was racing in sixth place in no mans land behind a group of five - that's tougher than being in the group with wheels to aim at. But riding in a bigger group is a problem on that type of track; you can easily lose time on descents because of crashes and the mistakes of others and this is ultimately what happened.
"It was a course was very different to previous World Cup races where Annie has done well – it required a lot of maturity to do well. Technically, physically, mentally and tactically, it was a very demanding course in all of these elements. Annie's result is confidence building for the whole team, we never deviated from the plan and the schedule and the results are showing. Compare this to 12 months ago and we are in a good place."
British Cycling Olympic Academy athlete Last now goes onto a short break off the back of her best result in 2012, one of the best rides of her career and with the first target of the Programme – Olympic qualification – met, before returning to training and targeting selection for the Games and World Championships.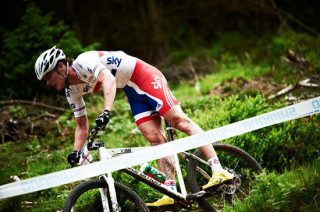 For the Olympic Podium Programme athletes there were mixed emotions, as first year Dave Fletcher recorded his best ever senior result, but Liam Killeen missed out on the top twenty.
Killeen was, according to Dixon, disappointed with 25th having started so well, with the target for a top 15 finish within reach for all but the final two laps. Fletcher meanwhile rode through the field to 44th, a result that Dixon says highlights his progression.
"This was Dave's best ride ever – he scored UCI points and that's something he needs to be doing week in week out, that has to be the level he operates on. This year has been a big change for Dave, he now travels with his team and spends his time in their pit area rather than the British Cycling setup. It has taken him time to adjust to this and now the hard work is paying off. La Bresse was the first World Cup he had a clean start in and he took maximum advantage of that by hammering the climb and making no mistakes – he was only off the bike on one occasion and had no crashes or mistakes on the descent. He needs to use that momentum to improve and progress again at the next World Cup to become a regular top 60 fixture."
OLYMPIC DEVELOPMENT
Although immediate focus is on London 2012, plans to deliver athletes capable of qualifying to the 2016 Games are already underway, with Olympic Academy athletes Grant Ferguson and Kenta Gallagher concluding their first block of racing in the under-23 world cup series. Both have had mixed results, effected by mechanicals and the inconsistencies associated with a developing athlete, but performances have been encouraging with several standout results.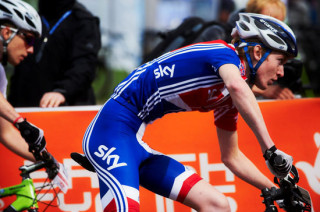 Gallagher's top-15 finish in South Africa's cross country race, followed up by a sixth-place in Houffalize's cross country eliminator showed his potential in year two of the programme, while first year Grant Ferguson's result sheet didn't tell a complete story. His capability to overcome setbacks has been the abiding story after round one in South Africa – where he dropped from tenth to 27th after a flat tyre in the final half lap – and round three in Nove Mesto – where he finished outside of the top forty. Between these challenges Ferguson managed to move from a starting position of 96th to finish 20th in Houffalize and finished 25th in La Bresse – marking his potential.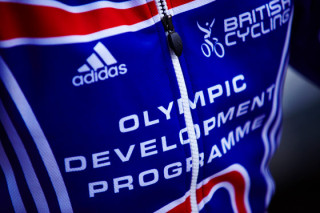 For junior riders on the Olympic Development Programme the three European-based world cup events have seen Bethany Crumpton achieve three top-16 results and seven first year juniors experience their first top level competition. Alice Barnes, Mike Thompson, Iain Paton, Alex Welburn, Tom Evans, Ed McParland and Stuart Wilcox were part of an increased size in squad, due to the omission of the European Championships in the racing schedule in light of the Programme having an Olympic focus in 2012.
The team - with the exception of Grant Ferguson - next compete at round five of the UCI Mountain Bike World Cup on June 23.